IBM's annual online report found that 20.4% of online purchases this year came from a mobile device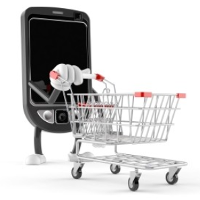 Every year right after Christmas,
IBM reports its analysis of online and mobile sales
. This year, Big Blue discovered that 57.1% of all online shopping traffic belonged to mobile devices. That is a healthy 18.6% increase over last year's numbers. Breaking those numbers down, smartphone traffic (40.6%) out numbered the traffic that came from tablets (15.9%). But when actual sales were examined, 18.4% of online sales originated from a slate, while only 16.3% came from a smartphone. Overall, purchases made on a mobile device accounted for 20.4% of online sales this year. But on Christmas Day, that figure hit 34.8%.
IBM also discovered that the average online purchase made on a desktop PC amounted to $107.72 vs.$88.70 on a mobile device. Additionally, when IBM took a deeper look at the online traffic figures, it found that 39.1% of all online traffic came from an iOS device this year, and 17.7% of online traffic emanated from an Android powered machine.
So who spent more on each transaction, iOS or Android users? Apple iPhone and iPad users spent $97.28 on average for each online purchase, versus $67.40 for the average purchase made on an Android phone or tablet. Lastly, IBM's analysis revealed that 27% of all online sales came from an iOS device, compared to the 7.6% that came from an Android flavored phone or tablet.
source:
PCMag