Apple's iOS racks up five times the amount of mobile Christmas Day sales as Android did
19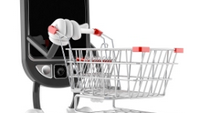 IBM has released its annual report detailing online shopping during Christmas Day. The stats indicate that iOS users were responsible for a whopping five times the amount of sales that Android users rang up on December 25th. Mobile traffic made up 48% of all online traffic that day, which was an increase of 28.3% over last year. Of all mobile online traffic, iOS powered units accounted for 32.6% and Android phones and tablets made up 14.8% on Wednesday.
Even though 28.5% of Christmas Day online traffic came from smartphones while tablets made up 18.1%, when it comes to making a purchase from a mobile device, the extra real-estate on a tablet seems to attract shoppers. 19.5% of online sales made on Christmas Day originated from a tablet while only 9.3% was from a smartphone. In addition, the average sale on a slate amounted to $95.61 versus the $85.11 average purchase made from an intelligent handset.
Over 83% of mobile sales were made over an iOS flavored phone or tablet, five times the amount that was purchased using an Android powered device. As a percentage of overall online sales, iOS was responsible for 23% while 4.6% came from Android. Apple users also dipped deeper into their wallets or purses with the average purchase on Christmas Day coming to $93.94 vs. the $48.10 spent on average by shoppers using an Android model.
Interestingly enough, shoppers referred from Pinterest spent $86.83 on average, compared to the $72.01 spent by those referred to a site by Facebook. On the other hand, Facebook users had four times the number of transactions as those on Pinterest.
source:
IBM
via
AppleInsider