How to send a paid iPhone app or game as a gift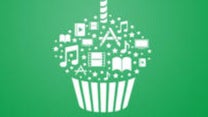 We all know how nice it feels when you're given a huge, wrapped box with a ribbon and your name written on it. Because, seriously, who doesn't like receiving gifts? They make us feel happy, appreciated, even loved. A gift, however, doesn't need to be of great size to bring joy to its recipient. As a matter of fact, it doesn't have to be a tangible item at all. An app or game for someone's smartphone, for example, can make a great gift.
But how do you send an app or game as a gift, anyway? Well, get your iPhones ready as that's the topic of today's how-to guide.
Sending App Store items as gifts to fellow iOS users is a quick and easy process. We're assuming that you have your Apple account set up and tied to a credit card already. If so, just follow these steps:
Open the App Store on your iPhone or iPad and find the app you wish to send as a gift.
Open the page with the app's details and tap on the Share button located in the upper right-hand corner. This will display a menu with all possible sharing options. Sending as a gift should be right there.
On the following screen, fill in the gift recipient's email address. You may also add a greeting message up to 200 characters long. Uncheck the "Today" tick if you wish to send the gift at a specific date in the future. You know, in case you forget when the special day arrives. Hit the Next button in the upper right corner.
Choose a theme for the message you're about to send and hit Next again.
The next screen gives you an overview of the purchase you're about to make. Hit Buy to confirm.
Congratulations! Your gift is on its way to its recipient. For more of our iPhone and iOS how-to guides, follow the links below.