Half of the Galaxy S7 units may come with Snapdragon 820, as Samsung strives for Exynos 8890 yield
31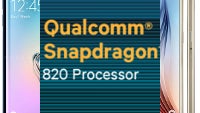 By now we've
already heard from several sources
that Samsung will be utilizing both its upcoming Exynos 8890 chipset, as well as Qualcomm's fastest Snapdragon 820 silicon in the future Galaxy S7. The company's engineers were even
reportedly helping Qualcomm
with the
next-gen 14nm production
and fine-tuning of the 820, specifically tailoring it for the Galaxy S7.
Well, that's a no-brainer, given that Qualcomm will be producing its monster chipset in Samsung's foundries, but until now we were in the dark roughly how many Exynos-equipped Galaxy S7 units will leave the conveyor belt, and how many Snapdragon 820-laden handsets. Today's report in Korean media states that, unlike what it did with the
Galaxy S6
, which runs exclusively on Exynos, Samsung is planning to utilize Snapdragon 820 in about half of its future Galaxy S7 units, so the ratio with Exynos 8890 could reach 1:1.
Previously we heard that the Snapdragon 820 chipset will be placed in Galaxy S7 versions destined for the US, for instance, as Qualcomm has unmatched integrated LTE modem that can attune perfectly to the various US carrier 4G networks. Interestingly enough, however, the source reconfirms that Exynos 8890 will also come as a compete system-on-a-chip (SoC) package, introducing Samsung's own LTE modem able to achieve Cat. 12 600Mbps download speeds,
just like Snapdragon 820
.
However, there might be an issue with getting enough yield for this new Exynos SoC, suggested the insiders, and that is why Samsung is trying to ensure a good supply balance for the Galaxy S7, hedging its bets with both excellent chipsets.