HTC's short commercials promote Eye Experience feature for the HTC Desire EYE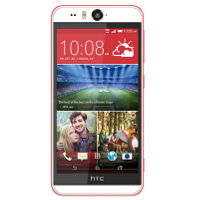 If you own the
HTC Desire EYE
or the
HTC One (M8)
, chances are that you are familiar with the HTC Eye Experience. This is a series of features for certain HTC cameras. One of the features is
Live Makeup
, which changes how your skin looks for a selfie. With this feature, you can make your skin look as smooth as silk. Once you are satisfied with your look, smile, and the selfie is snapped. With
Screen Share
, you can show those on the other end of a video chat, exactly what is on your phone screen.
There are other features that HTC has decided to promote through a series of short television ads for the HTC Desire EYE. The first fifteen second spot is for the
Face Fusion
feature. This feature allows you to take portraits and blend them together to form one face. A sliding scale allows you to control the blend. With
Face Tracking
, which is the focus of the second ad, you don't have to stand still to be tracked by the front-facing camera. It also allows the camera to individually track as many as four members of a group video chat.
If you own the HTC Desire EYE, the Eye Experience features come right out of the box. Most HTC One (M8) units have received the update (yes,
even Verizon branded units
). HTC will next update the
HTC One (M7)
. Other models expected to receive the Eye Experience via an OTA update include the
HTC One (E8)
,
HTC One mini
,
HTC One mini 2
,
HTC One max
,
HTC Desire 816
,
HTC Desire 820
and the
HTC Butterfly 2
.
source: HTC (
1
), (
2
)