HTC to hold live event tomorrow; will we see the HTC One M9 Plus?
25
HTC has posted on its website a countdown timer that is ticking down the seconds until a live media event will begin. The event will take place in Seattle and HTC Americas president Jason Mackenzie will be hosting. The major question, of course, is what Mr. Mackenzie will be saying. Will we see the rumored
HTC One M9 Plus
unveiled?
Another possibility is that HTC could announce a U.S. launch date and pricing for the
HTC One M9
. He also might address
the software issue that has allegedly been the cause of a delay in the phone's launch in Taiwan
, and explain whether it is an issue that will affect the delivery of the handset in the states.
The live event starts at 9:00am PDT (Noon time in New York). Of course, we'll have all the news as soon as it breaks.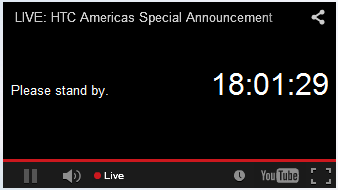 HTC teases tomorrow's media event with a countdown timer
source: HTC