HTC One M9 Review
99+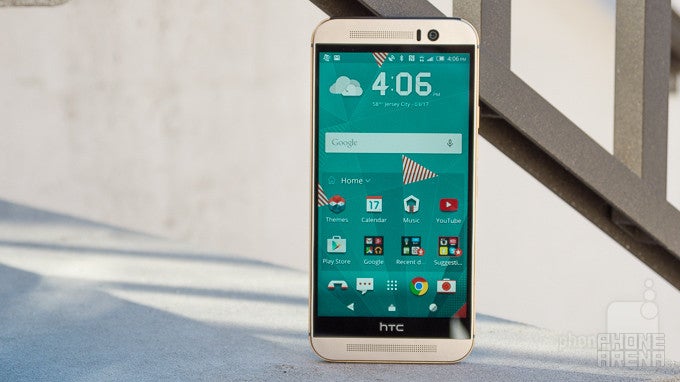 Introduction
Nearing the arrival of spring, it's that time of the year when we become all excited and giddy because it's what we like to call the first flagship season. Now that Mobile World Congress 2015 is behind us, where several notable smartphones made their debut, it's ripe for many companies to out their flagship devices for the first half of 2015 – and they sure didn't disappoint us with their announcements! Acting swiftly, the
HTC One M9
is one of the first out of the gate, hoping to get a slight head start against the anticipated horde of competition we know that's lurking in the shadows, waiting and poised to make their move.
For HTC, it's an interesting position for them, as 2014 ushered in a shift for the venerable company – one that brought them more notoriety in the mid-range segment, rather than the high-end. Don't get us wrong, last year's
HTC One M8
delivered an acclaimed smartphone that proved yet again that the company knows how to design beautiful phones. In comparison to its esteemed rivals at the time, however, it didn't quite make as much of a significant impact on consumers. All in all, it was a valiant effort, but it wasn't the kind of thing to shake the ground beneath us.
And that, folks, is where its successor in the HTC One M9 aims to succeed. One year later, one year wiser, HTC is hoping that its latest effort is enough to do justice in the always-competitive high-end smartphone space. With more and more competition looming on the horizon, the M9 needs to succeed valiantly in order to contain its place amongst the elites.
The package contains:

HTC One M9
Wall charger
microUSB cable
Stereo headphones
Replacement ear bud tips
Design
The HTC One M9 continues the tradition of yielding the design qualities of a premium smartphone.
Recycling a design isn't a new process to tell you the truth, just look at what Apple does with its iPhones, or Samsung with... most of its line-up, or Sony with its Xperia Z phones. Looking at the HTC One M9, most people would be hard-pressed to realize any major differences in design from the onset – it almost looks identical to its predecessor! That's not a bad thing, honestly, just because the HTC One M9 still embodies all of the qualities we'd want to find in a high-end, highly lusted smartphone.
Quite frankly, the M9 retains the same DNA design language of the M8 before it – so what we have here is a solidly crafted thing that's accentuated by its premium choice of materials. This time around, though, it employs a jewelry grade dual-tone finish that accents our all-metal silver colored review unit with a contrasting gold bezel. Honestly, it's still incredibly beautiful looking and the scratch-resistant finish doesn't feel as slippery as last year's model.We really can have few complaints about the M9's design, mainly because it's just such a looker in the space, differentiating from the rest of the landscape with its all-metal body.. Meticulously designed, with attention to detail, and awe-inspiring from head-to-toe, it's no surprise that the M9 continues the legacy that HTC is known for throughout its prestigious history.
Changes to the M9's design are both subtle and direct. For example, they're able to whittle away at the bezels surrounding the display – ensuring that the M9 is technically more compact than the M8, but it's really tough to notice it in person. More apparent, thought, is the placement of the power button to the right side of the phone, which makes it more accessible.
Keeping its iconic design intact, the HTC One M9 is blessed with the same dual front-firing HTC BoomSound speakers from before, but they are now accompanied with Dolby Audio Surround. Rounding things out, it still features a nanoSIM slot, microSD card slot for expandable storage, and an IR blaster underneath the plastic cover lining the top edge of the phone. Right from the get-go, the HTC One M9 is available in three metallic colors – gunmetal grey, gold on silver, and gold on gold. Our particular review unit, the gold on silver one, definitely exudes a premium finish to the point that it can be mistaken for a solid silver bar.
As much as we would've been thrilled to see the M9 receive a higher degree of water resistance, that's not the case here, since the M9 sports an IPX3 rating – giving it superficial protection against "light rain." Interestingly enough, the optional HTC Active Case will increase its rating to IP68 for added submersion and drop protection.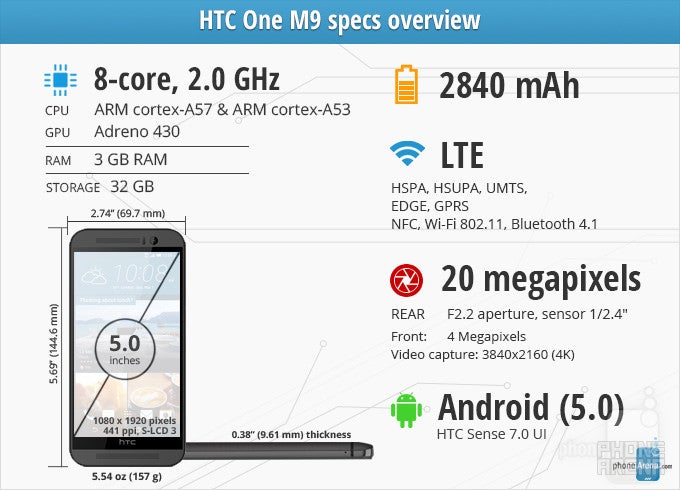 Display
Sorry, there's no plunge into quad-HD resolution just yet, but it's hard to find fault with 1080p resolution in a 5-inch screen.
We're not sure about how some of you folks feel about the HTC One M9's display, a manageable 5-inch 1080 x 1920 S-LCD 3 display, especially when it seems as though more and more high-end phones are favoring quad-HD (1440 x 2560) resolution. On paper, HTC has done nothing new for the M9, as its display specifications matche its predecessor. Chiming in with a pixel density count of 441 ppi, we can't find too much fault at HTC for choosing instead to stick with 1080p resolution, as details are undoubtedly preserved – so there's great distinguishability from a normal viewing distance.
What's more shocking, despite the obvious unchanged in specs, is that the display of the M9 exhibits a color temperature of 8100K – a stark departure from its predecessor's mark of 7200K. Essentially, it gives off a distinctively colder tone, which makes it appear more bluish in hue. As a general rule of thumb, the ideal color temperature for a display is 6500K. Seeing that the M9 is well over that threshold, we're a little baffled as to the decision to give the phone a colder toned display.LCD displays are capable of exhibiting very natural and accurate color reproduction, as well as good outdoor visibility, but the M9's S-LCD 3 color reproduction seems a smidgen more skewed than last year's display, besides being decidedly bluish, as we already mentioned. Well, it's not the most color accurate thing, especially looking at where it hits the reference points in the color gamut chart, which you can find below. Also, the various gradients of magenta tend to favor the color blue. However, we're glad to see that its brightness output has been increased to 508 nits – a marginal increase over the M8's 490 nit brightness.
At the end of the day, we ask ourselves if what we're given here is an effective display? Straight to the point, we're inclined to say yes, mainly because it's detailed, arguably at a perfect size, and it's visible with the sun present. Sadly, it's not particularly color accurate, which is kind of bothering, considering the premium status of the device on the whole.
Display measurements and quality
Recommended Stories