HTC One M9+ Review
63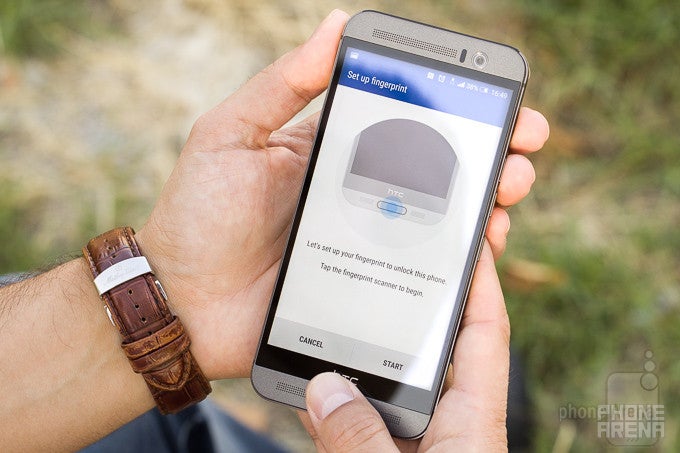 Introduction
Stuck in a downward spiral for what seems like an eternity, troubled Android phone maker HTC has been actively diversifying its portfolio this year. Sure, there was the mandatory One M9 flagship, as well as a bunch of Desire mid-rangers, but we've also seen some more or less unexpected entrants, such as the
HTC One M9+
. 'Ah, an M9 in a super-sized form,' you might think. Not exactly.
The M9+ is slightly bigger than the M9, but not really big enough to call it a phablet. At the same time, it bumps some of the specs up, like the resolution, but also turns things down in other areas, such as the chipset. It's really difficult to determine the exact position of the One M9+ relative to the M9, which is why we won't even try. Let's just review it for what it is.
Design
During the last year or so, we've gotten used to associating the word "plus" with "phablet", but this is not the case with the HTC One M9+. It's a big handset, we'll give it that, but with a display size of 5.2", it stays safely within the 'phone' realm, and far enough from anything approaching a mini-tablet. Typically for HTC, though, the phone is a bit larger than average considering its screen size, due to the generous upper and lower bezels, where the stereo speakers are housed, along with some other goodies. The One M9+ also happens to be thicker than the average iPhone or Galaxy, which gives it a very substantial, solid appearance.
Traditionally strong in the build quality department, HTC is delivering yet another phone that's very well put together, albeit a bit top-heavy. The smooth, brushed-metal back plate feels good in the hand, and tends to be just a tad less slippery than the average metal smartphone, due to its very smooth, polished finish. It's still definitely on the slippery side, though, so it should be handled with care. Unexpectedly, the front panels covering the speakers are actually made of plastic, not metal, but that doesn't really stand in the way of the classy feel.
Interestingly, HTC has equipped the M9+ with a fingerprint scanner, which is situated on the lower bezel, right below the display and "mandatory" HTC logo. As a result, the bottom speaker grill has been split in two, making for a less symmetrical, less thoughtful kind of look.
Overall, the One M9+ bears the marks of HTC's signature design language, but we wouldn't necessarily say that it's as attractive as the One smartphones we've already seen. Build quality is pretty high, though the power and volume keys could have been a bit clickier.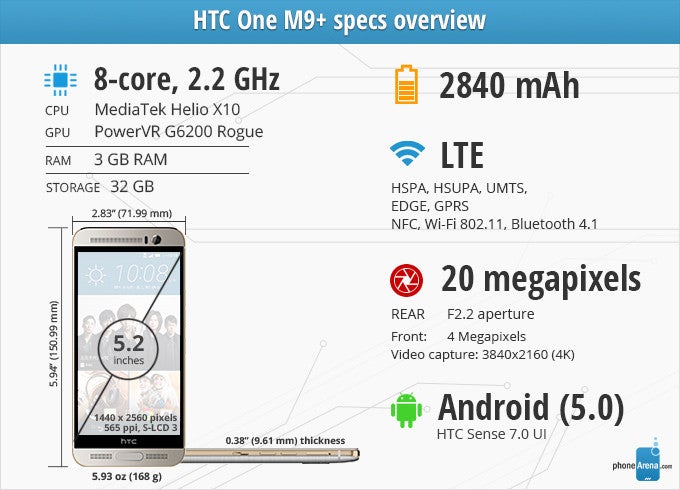 Display
For those who don't remember, HTC used to be a top dog in the display field. A few years ago, the One X flagship was universally acclaimed for its beautiful LCD display, with natural, yet attractive colors.
Whether due to the long list of high-profile executives who eventually left HTC, or something completely different, we don't know, but those times are long gone now. When it comes to its latest high-end devices, including the One M9+, screen quality has been, and continues to be an issue. Outdoor visibility is fine, due to sufficient brightness output, but when viewed in darkness, the display tends to be a bit more difficult to enjoy, because its brightness can't go low enough. The automatic brightness control is by no means perfect, but it tends to get the job done most of the time. Our biggest gripe has to do with the overly cold color reproduction – it's as if the Dementors from Harry Potter have come to suck the life out of the display. The result of that are colors that look decidedly bluish or even greenish, in comparison with most high-quality display you'll find out there. Seriously, HTC, find your Patronus to scare them Dementors away!
Perhaps HTC has thought that it'll be able to make up for the lacking colors by stuffing more pixels into the One M9+'s display. After a few days of use, it took a quick look at the device's specs sheet for us to realize that we're dealing with an actual Quad HD display here, and not a 1080 x 1920 one. That's because all of that time, we thought it's a just a normal, 1080 x 1920 screen, which, in turn, is because at this screen size, Quad HD looks like HD. HTC is trying to play the specs game here, but this isn't what we've been looking for at all. It makes us blue.
Display measurements and quality
Recommended Stories