HTC Touch HD 2 to run Android instead of Windows Mobile
This article contains unofficial information.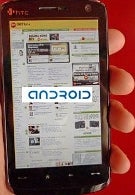 HTC is working on a sequel to its popular Touch HD handset, but the manufacturer is planning on making a few changes to the sequel. Perhaps the biggest difference is that the new version will be running on the Android OS. The first-gen model ran on Windows Mobile 6.1 professional. Another change will be processor speed. Not only will the new Touch HD 2 be faster than the original, it will also be speedier than most other HTC handsets. The Touch HD 2 will have a 628MHz Qualcomm chip as opposed to the 528MHz that most of the high-end HTC models run on. One thing that is expected to stay the same is the display, with both models equipped with a 3.8 inch screen and resolution of 480 x 800 pixels. The HTC Touch HD never found a home at a U.S. carrier and it is not known whether or not this will apply to the new version. Meanwhile, launch date and pricing are unknown at present.
source:
RegisterHardware