HTC Salsa hands-on
3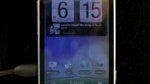 While we handled the
HTC Salsa
, one of the company's "Facebook experience" phones, it became immediately clear that this one is targeted towards the younger crowd, who want to do some social networking on-the-go and on-the-cheap.
The display is
3.4"
LCD with
320x480
pixels, not great in terms of resolution and brightness, but it does the job. This phone is powered by a humble
600MHz
Qualcomm chipset, but it has the generous
512MB
of RAM, and a 5MP camera with LED flash on the back, so all the basic are covered. It seemed solid enough in the hand, although it looks like entirely made of plastic.
The HTC Salsa keeps the design trend from all recent HTC handsets, though, save for an area around the camera lens on the back, colored in a lighter than the default tone, which makes it look
patchy
in the rear. There are several color options - blue, brown and black for the soft-touch plastic on the back - and having it bi-tonal in the camera area brings a more youthful look.
HTC said at the unveiling event that the stats show how more than half of people between 18-35 years of age check Facebook right after they wake up, and we have similar observations. Therefore HTC Salsa comes to the rescue, since HTC has wisely concluded that just an app is not enough, you have to have a dedicated Facebook button physically on the handset. As good of a differentiating feature as any other, we guess, and the execution is actually rather cool.
When you call someone with your HTC Salsa, their Facebook profile appears, with the latest status updates, photos and so on, so you know what they've been up to since you talked last. Numerous little additions like this one are dispersed throughout the HTC Sense UI. The Facebook button blinks whenever you can share something you are doing with the phone, whether it is visiting a website (share a link), listening to music (post the song), or taking a photo - the button starts glowing, and you can upload said photo to your Facebook account directly by pressing the blue button underneath the screen. If you hold it pressed, Places opens, and you can check-in.
Cool concept, but the phones seem to run a previous version of the HTC Sense, not the one with cloud services and offline navigation capabilities, and we will have to put the Facebook-oriented HTC Sense through its paces in the final form, before we pass any judgment. Q2 is the time of arrival, and
HTC said
AT&T will be the exclusive carrier for its "Facebook experience" handsets in the US.