HTC Salsa Review
33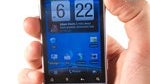 This is a global GSM phone. It can beused with
T-Mobile
USA and
AT&T, but
without 3G.

Introduction:
Salsa is your friend. You put it on nachos; you do it on the dance floor. The word conjures up images of socializing, music and fun times. We're guessing that's why Salsa is the name of HTC's latest social media, and more specifically, Facebook phone. With more explicit Facebook integration than most, the
HTC Salsa
, along with its sibling, the
HTC ChaCha
, carries a physical Facebook button to tie whatever's going on in your hand to the world of Facebook. Sitting between the
HTC Wildfire S
and the
HTC Desire S
, is the Facebook button enough to make us want some Salsa on our social networking or would we be better off ignoring this friend request and going for a more established model?
Design:
The first thing that strikes us about the design of the HTC Salsa is its build quality. This isn't a half baked chunky plastic job, it's every bit as well built as the HTC Desire S with an HTC Hero-esque styling. Until, that is, you arrive at the jarring blue button on the lower part of the fascia that makes it very clear what this phone's all about. But we'll come onto that later, now, lets talk about the screen.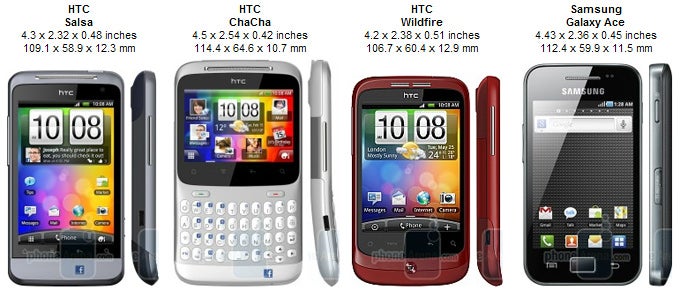 You can compare the HTC Salsa with many other phones using our
Size Visualization Tool
.
With HVGA resolution (320x480) and
3.4 inches
of screen, the HTC Salsa delivers good overall contrast and brightness levels though isn't very sharp. Viewing angles hold up pretty well and the capacitive display is certainly responsive enough to make the overall experience good, but it's in the league below WVGA displays out there.
As far as the physical design goes, as mentioned, the HTC Salsa resembles a slightly squat HTC Hero with a chin that houses the all-important Facebook button. Directly below the display are 4 capacitive buttons while above is the front facing camera, light sensor and in-call speaker. There's a volume rocker and micro USB port to the
left
, while to the
right
is one of the best camera buttons we've seen on a phone, offering a large, easy to press, two stage shutter release. The power button and audio jack lie up
top
, while on the
back
is a 5MP autofocus camera, single LED flash and loudspeaker. The handset feels ergonomically curvaceous, though may be a bit thick and heavy for some. This all makes for a hardy mid-range bit of kit with a conspicuous
Facebook button
. That said, with the lackluster screen, we're hoping for some pretty special functionality to justify the HTC Salsa's upper mid-range price-point.