The Facebook HTC phones are real: HTC Salsa shakes it for the social crowd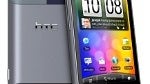 Check out the other Facebook-centric phone by HTC - the
ChaCha
-
here
!
If you are the teenage crowd and fascinated by blinking lights, you will love the
HTC Salsa
. It is a humble Android 2.3 Gingerbread touchscreen-only phone, but with a dedicated Facebook button.
The button lights up when you are doing stuff with your phone that you can share on Facebook:
"
The Facebook button on HTC ChaCha and HTC Salsa is context-aware, gently pulsing with light whenever there is an opportunity to share content or updates through Facebook. With a single press of the button, you can update your status, upload a photo, share a Website, post what song you are listening to, 'check in' to a location and more. For example, you can take a photograph of friends on your phone and upload it instantly to Facebook by simply pressing the button. Or let your friends know what song you're listening to by pressing the button while listening to music on the phone. The track is automatically identified and shared on Facebook.
"
Other than that, the specs are not crazy exciting -
3.4"
320 x 480 pixels LCD display,
600MHz
Qualcomm MSM7227 chipset with
512MB
of RAM,
5MP
rear camera with flash, and a front-facing cam.
Sharing those precious moments on the bus stop just got easier for your kid. The HTC Salsa will be available in Q2, and the most interesting thing about it, besides the dedicated Facebook button, is that it will ship with the latest Android Gingerbread version for phones -
2.3.3
- which adds advanced NFC capabilities for developers, but is otherwise identical to Android 2.3.
source: HTC