HTC Rezound against the world: spec comparison
90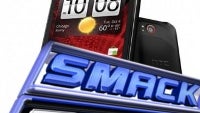 Verizon's
HTC Rezound
spec sheet has arrived and it's truly a beast: 4.3-inch 720p LCD display, a 1.5GHz dual-core processor and support for Verizon's blazing fast 4G LTE network. But that's only part of the picture - the Rezound redefines
high-definition audio on a handset
with a pair of Beats Audio headsets with their signature red cable. First reports about the audio quality have been really impressive, saying that it's truly an audible difference, and really that's what most users care about.
The HTC Rezound also ships with Gingerbread skinned up with the latest HTC Sense, 3.5, which is as gorgeous as ever. What's more, HTC promises an update to
Android 4.0 Ice Cream Sandwich
early next year. What you might want to know, though, is how it stacks up against the rest of the Android heavyweights and the iPhone 4S. Don't worry - we've got you covered with all the essential specs lined up for your curious minds. What you won't see in the table below is the amazing pixel density of the screen. Simply put, it's the best on the market, finally dethroning the 326ppi pixel density on the iPhone and becoming the new king with an
amazing "retina" pixel density of 341ppi
.
In addition, the Rezound comes with an
8-megapixel camera
with f/2.2 allowing more light in for better low light shots. It also captures 1080p video.
So with no further ado, here's the HTC Rezound going head-to-head against the iPhone 4S, the Samsung Galaxy Nexus, the Motorola Droid RAZR and the Samsung Galaxy S II. Which one would you pick?