HTC One vs Nokia Lumia 920 and 720 low-light comparison (video)
84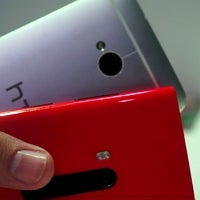 There weren't much dark corners at the MWC expo, but the HTC booth had one, where you could check out the low-light capabilities of the newest One handset with the
UltraPixel
camera.
It's precisely in this improvised dark room where a fight was staged between the reigning low-light champion
Nokia Lumia 920
, as well as the newer
Lumia 720
, and the
HTC One
, taking one and the same picture, and judging the results.
We won't spoil the ending, so check out the two videos below. Needless to say, we can't wait to get the hold on a retail HTC One unit, and stage some real cagefight with all the heavyweight camera wrestlers.