HTC One and the UltraPixels: the end of the megapixel war
80
People and companies alike come up with the best they are capable of when their backs are against the wall, and HTC just confirmed the old adage "do what's right and take the consequences" with the introduction of the
HTC One
, which carries a humble 4 MP camera in an age when the marketing departments scoff at anything less than 8 MP for a flagship device.
The fact of the matter is, however, that true photographers know these high resolutions in a size-restricted phone sensor are just a sales gimmick, contributing nothing to the quality of the photo, especially in low light, as more pixels on this space means they are smaller, and able to soak less light, hence the notoriously crappy low-light shots from smartphone cameras, excluding Nokia's PureView phases.
So what is an Ultrapixel? Frankly, it is just a bigger pixel, but that makes for all the difference when you want more light in. For comparison, the
Sony Xperia Z
has a 1.1 micron pixel, the
Nokia 808 PureView
,
Lumia 920
,
Galaxy S III
and
iPhone 5
sport 1.4 micron pixels, and things pick up at the
Nokia N8
with 1.75 micron, to reach
2 microns in the HTC One
. Granted, the older
Nokia N90
and
N95
had even larger pixels, and DSLRs like Nikon'ss would go up to 4.8, but still we are talking a modern smartphone, and a thin handset at that with the One.
It is not only the pixel size, of course, as technology is evolving and a lot of other things are at play, and it was mentioned that the pixel "buckets" for light on the One are shorter than typical, letting the light in faster and with less refraction to the sensor. HTC One sports a compact 1/3" backside-illuminated sensor and F2.0 aperture on 28mm lens. Moreover, the sensor itself is on suspension, similar to Lumia 920, making it only the second phone with some sort of
optical image stabilization -
it is said to be two-axis, with 2 kHz oscillation, meaning it can compensate thousands of movements per second. HTC flaunted the Ultrapixel camera results with the image below.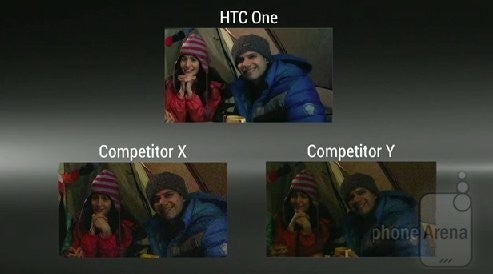 This sensor is combined with HTC ImageChip 2, the second edition of the company's
dedicated camera processing efforts
, which intros <200ms continuous autofocus speeds, and, together with the powerful
Snapdragon 600
chipset, allows for tricks like HDR photos
or
HDR video, as well as slow-mo recording with variable speed playback. The end result with ImageChip 2 is
84dB signal-to-noise ratio
, which is extremely impressive for a smartphone, and means that not only your night snaps will be better lit and exposed with the HTC One, but also the level of digital noise should be kept to a minimum without smearing up details.
Not only that, but HTC pairs its Ultrapixel phone camera breakthrough with
HTC Zoe
- software that records high-res pictures and video at the same time, and then makes a professional-looking collage complete with zoom animations, color and sound effects and rotations for you to share life's precious moments without having to learn picture and video editing. You have a choice of themes and tracks, and can remove unflattering footage, before the so-called Zoes are recorded in a proprietary HTC format, sort of like Cinemagrams or Vines. We say Vine, as Zoe Share uploads the files to HTC's servers and gives you a simple URL to share them with friends and relatives in the span of 30 days.
There is also on-device retouch with Object Removal, Group Retouch, and Sequence Shot, as well as five levels of LED flash strength automatically set by the distance to the subject to keep it evenly exposed.
"
The megapixel race... it just became a sales metric
," said HTC during the event, and with 3 times more light than your average smartphone camera being soaked in by the One, we couldn't agree more, at least if the review shots confirm HTC's promo shots in the slideshow below.