HTC Desire S sales in Europe start today
5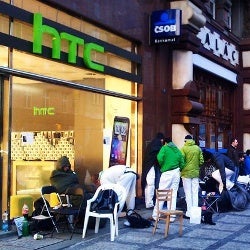 Update: Whoa, it seems that the handset has already gone on sale in the Czech Republic with a rather attractive price cut of 50% for the first 100 customers. You know what this means? The line in front of the HTC store was probably longer than the one in front of Apple, which launches the iPad 2 today in 25 locations worldwide. Check out the pictures below, but be warned - what you're about to see is not for the faint of heart, the mystery HTC man will certainly haunt you in your nightmares.

Thanks, Bazgan!
The HTC Desire S was unveiled in all of its refined desirable Android beauty during MWC and it's launch is getting ever so close. Even more now as we know its exact European launch date, which would be March 28th in Germany, according to an Amazon listing. Well,we're yet to see it stateside and with its hefty pricetag of 477 euro(nearly $675), a subsidy would be most certainly welcome.
The handset boasts a durable aluminumunibody design with a 1GHz second-gen Snapdragon chipset and Adreno205 graphics under the hood. The Amazon listing mentions that theDesire S comes with HTC Sense equipped Android 2.4, which issupposed to be a relatively minor update from Gingerbread, which will actually keep the samename. The 3.7-inch Desire S shouldn't bring anythingground-breaking, but we have our hopes high for a well-polishedAndroid handset from HTC, just like the recently shipped HTC Incredible S.
source: Mobilenet.cz and Amazon.devia Mobflip(translated)