Google Pixel vs Samsung Galaxy S7 vs HTC 10: three-way specs comparison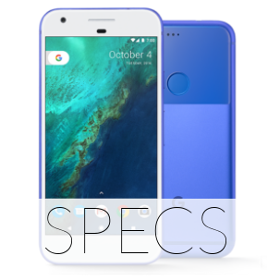 Packing a Snapdragon 821, 4GB of RAM, 32 or 128 gigs of native storage, and finally, a camera that is allegedly among the best ones in the class, the Google
Pixel
and
Pixel XL
are here to wage war on the very best the Android market has to offer.
Indeed, we've been pretty hyped up about the small-sized Pixel - after all, what's not to like about an easily-pocketable powerhouse? However, is the announcement of the Pixel spelling bad times for the rest of fairly small flagship devices out there, like the excellent
Galaxy S7
and the not-too-shabby but largely forgotten
HTC 10
?
Well, we are not sure how things will unravel for the Google Pixel, but what we can do is compare this trio in terms of specs. Yes, it's specs comparison time!
Display
Technology
S-LCD 5
Super AMOLED
AMOLED
Features
Scratch-resistant glass, Ambient light sensor, Proximity sensor
Scratch-resistant glass, Ambient light sensor, Proximity sensor
Oleophobic coating, Scratch-resistant glass, Ambient light sensor, Proximity sensor
Hardware
Qualcomm Snapdragon 820 MSM8996
Qualcomm Snapdragon 820 MSM8996
Qualcomm Snapdragon 821 MSM8996 Pro
Quad-core, 2200 MHz, Kryo, 64-bit
Quad-core, 2200 MHz, Kryo, 64-bit, 14 nm
Quad-core, 2150 MHz, Kryo, 64-bit
Adreno 530
Adreno 530
Adreno 530
Internal storage
32GB
32GB
128GB, not expandable
OS
Android (8.0 Oreo, 7.0 Nougat, 6.0 Marshmallow), HTC Sense UI
Android (8.0 Oreo, 7.0 Nougat, 6.0 Marshmallow), Samsung TouchWiz UI
Android (10, 9.0 Pie, 8.1 Oreo, 8.0 Oreo, 7.1 Nougat)
Battery
Charging
Qualcomm Quick Charge 3.0
Qualcomm Quick Charge 2.0
USB Power Delivery
26.00 hours
the

average

is 17 h (1010 min)
19.0 days (456 hours)
the

average

is 21 days (500 h)
27.00 hours
the

average

is 19 h (1110 min)
28.00 hours
the

average

is 19 h (1110 min)
19.0 days (456 hours)
the

average

is 0 days (0 h)
19.0 days (456 hours)
the

average

is 0 days (0 h)
3G: 11 hours; LTE: 13 hours; Wi-Fi: 14 hours
LTE: 13 hours; Wi-Fi: 13 hours
Camera
Rear
Single camera
Single camera
Single camera
Main camera
12 MP (OIS, Laser autofocus, BSI sensor)
Specifications
Aperture size: F1.8; Focal length: 26 mm; Sensor size: 1/2.3"; Pixel size: 1.55 μm
Aperture size: F1.7; Focal length: 26 mm; Sensor size: 1/2.5"; Pixel size: 1.4 μm
Aperture size: F2.0; Sensor size: 1/2.3"; Pixel size: 1.55 μm
Video recording
3840x2160 (4K UHD), 1280x720 (HD) (120 fps)
3840x2160 (4K UHD) (30 fps), 1920x1080 (Full HD) (60 fps), 1280x720 (HD) (240 fps)
3840x2160 (4K UHD) (30 fps), 1920x1080 (Full HD) (120 fps), 1280x720 (HD) (240 fps)
Features
Time-lapse video, Hyperlapse, Picture-taking during video recording, Video calling, Video sharing
HDR, Picture-taking during video recording, Video calling, Video sharing
Video calling, Video sharing
Front
5 MP
5 MP
8 MP
Video capture
1920x1080 (Full HD)
1920x1080 (Full HD) (30 fps)
Design
Dimensions
5.74 x 2.83 x 0.35 inches (145.9 x 71.9. x 9 mm)
5.61 x 2.74 x 0.31 inches (142.4 x 69.6 x 7.9 mm)
5.66 x 2.74 x 0.34 inches (143.84 x 69.54 x 8.58 mm)
Weight
5.68 oz (161.0 g)
the

average

is 6.4 oz (183 g)
5.36 oz (152.0 g)
the

average

is 6.4 oz (183 g)
5.04 oz (143.0 g)
the

average

is 6.4 oz (183 g)
Materials
Back: Aluminum
Back: Glass (Corning Gorilla Glass 4); Frame: Aluminum
Back: Aluminum, Glass
Resistance
Dust; IP53
Water, Dust; IP68
Splash, Dust; IP53
Fingerprint (touch)
Fingerprint (touch)
Fingerprint (touch)
Features
Touch sensitive control keys
Touch sensitive control keys
Notification light