The Google Pixel 4's announcement date may have just leaked
3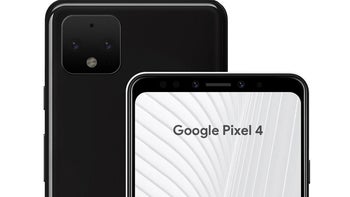 The Google
Pixel
4 has already leaked three times today yet this newest one is arguably the most important yet because it seems to reveal one very important detail – the date of Google's next hardware event.
The introduction could happen in the mid-October
Evan Blass
who has a pretty solid track record when it comes to smartphone leaks, an official-looking press render provides a clear glimpse at the Google Pixel 4's front panel. The image in question corroborates everything previously reported such as the larger upper bezel that's home to a variety of sensor, the impressively slim chin, and the thin side bezels.

Today's render also showcases what seems to be one of Google's official Pixel 4 wallpapers alongside a mysterious date – October 15. There's no guarantee this particular date means anything but press renders of previous-generation models have typically shown the date of Google's annual hardware event.

For the first two years, Google held its events on October 4, but last year the announcements were pushed back a little to October 9. This year, there's been no word about the actual introduction date but Tuesday, October 15 certainly seems like a good candidate for a hardware event.
If this happens, pre-orders will probably commence immediately after the announcements and be followed up by a release on Friday, October 25. The prices Google has planned for the Pixel 4 series are yet to be revealed but recent rumors suggest the internet giant will significantly undercut the likes of the
iPhone 11 Pro
and
Galaxy Note 10+
by offering the Pixel 4 and Pixel 4 XL at $799 and $899 respectively.
What will the Pixel 4 & Pixel 4 XL bring to the table?
The standard Pixel 4 will reportedly arrive equipped with a 5.7-inch OLED display that supports a 90Hz refresh rate and a 2280 x 1080p resolution. The
Pixel 4 XL
, on the other hand, will adopt a larger 6.2-inch panel that'll offer a higher 2960 x 1440p resolution.
Powering Google's next smartphone will be Qualcomm's Snapdragon 855 paired with 6GB of RAM as standard, although an 8GB version may be in the works, too. Both flagships will ship with 128GB of internal storage but Google may create pricier variants with higher amounts. Regardless, microSD card expansion isn't to be expected.
As you'd expect from a Pixel-branded flagship, stock Android 10 will be present straight out of the box. This introduces support for a gesture-based navigation interface paired with native Dark Mode, contextually aware Smart Reply and Suggested Actions for notifications, improved location sharing controls, and seamless background updates. Also, while on the topic of software, it's worth pointing out that Google's Pixel 4 series will support a variety of 'Motion Sense' gestures that are made possible by the Project Soli radar that's housed within the upper bezel.
Rounding out the Pixel 4's package will be an all-new dual-camera setup on the rear that includes a primary 12-megapixel camera and a 16-megapixel telephoto snapper which combines optical zoom with Super Res Zoom software to achieve 8x zoom. The new camera setup will reportedly support an enhanced Night Sight mode that works noticeably quicker than the current implementation and is capable of capturing clear photos of the sky and stars in the middle of the night.
One final feature will include a new wide-angle selfie camera. The latter attempts to substitute the Pixel 3's dual-camera selfie setup by shooting wide-angle photos as standard and recreating regular shots by combining cropping with Super Res Zoom software.