Google Phone v17 scores Facebook Messenger-like floating chatheads with in-call controls
6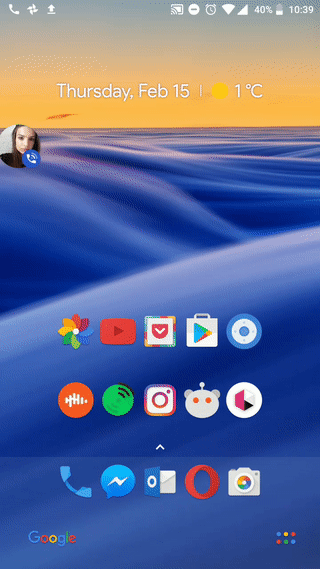 Hey, do you love chat heads?
If you are a casual or devoted fan of Facebook's own Messenger, then you are most likely loving these floating collapsible bubbles that make communication easier and don't force you to leave your app in order to reply your mom back.
Google's own Phone app itself scored floating chat heads today, and while it seems odd for a Phone app to score such a feature, it is quite useful. Version 17.0.184919600 of the app puts all essential in-call buttons neatly tucked away in a floating chat head depicting the profile picture of the person or business you're calling.
Inside the useful UI extra you will find the options to end the call, mute it, redirect it to the loudspeaker, or go back to the traditional in-call interface that we've grown to love and cherish.
The usefulness of this new addition to Google Phone becomes evident when you want to check something on your device while talking, and while previously you could still do that, the floating chat head is much more visually appealing and intuitive to use. To 'summon' the new chathead feature, just press your home button while being in-call; just like on Facebook Messenger, you can flick it around as you please. Tapping on the portrait will reveal the available options, and finally, flicking down the chathead to the bottom of the screen will allow you to either bring back the regular in-call UI or hang up on the call. Also, have in mind that you can't actually disable it at this point - Google has not introduced a setting to turn it off just yet.

You can either wait for this update to hit you automatically or force it by sideloading v17.0.184919600 of the app, which is linked down below.