Purchase the Pixel 2 XL from the Google Store and get $150 in store credit and a free Home Mini
10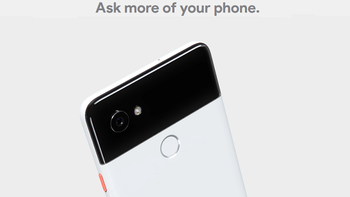 Starting today and running through June 17th, when you purchase the
Google Pixel 2 XL
from the Google Store, you will receive $150 in store credit that can be used toward a future purchase. In addition, you will also receive a free Google Home Mini smart speaker. All you have to do is remember to add the Home Mini to the cart when checking out. You must have a Google Store account to receive the store credit; those checking out as guests are not entitled to it.
The 64GB Pixel 2 XL is priced at $849 or $35.38 a month over 24 months. Within 6 to 8 weeks after the purchase, customers will be notified by email when the $150 credit has been added to their account. The credit does have a shelf life as it must be used before November 30th, 2018.
The free Google Home Mini offer will run through the end of June. With Father's Day on the horizon (June 17th, the last day to get the store credit with a Pixel 2 XL purchase), this might be a great time to get your dad a Pixel 2 XL and a Google Home Mini smart speaker. Or, you can buy the phone for yourself and give him the Home Mini. Whatever you have in mind, you can get the ball rolling by clicking on the sourcelink below.

This deal runs through June 17th, which happens to be Father's Day