Gene Munster says goodbye with a final call for Apple to sell 170 million iPhones in fiscal 2018
11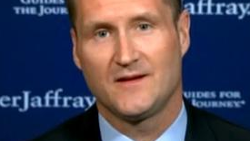 Piper Jaffray analyst Gene Munster has been quoted in many of our stories over the years. He is taking his analytical skills to a different part of the financial industry as he starts a Venture Capital firm. In his final note to Piper's institutional traders, Munster gave his expectations about what he believes will be in store for Apple over the next five-years.
Munster's 874th note about Apple said that services are the next frontier for the tech titan. If the company cannot make that change, investors will once again be forced to focus on unit growth and innovation. Speaking of unit growth, Munster says that the March and June quarters next year will see Apple topping the Street's expectations for sales of
Apple iPhone 7
and
Apple iPhone 7 Plus
.
The analyst predicts that the tenth anniversary iPhone, with a rumored edge-to-edge OLED panel, will produce high single-digit to low double-digit growth next year. Calling the premium anniversary model the iPhone 10, Munster expects sales of 170 million units of the iPhone during Apple's fiscal year 2018 which starts October 1st, 2017.
To be considered a services company by investors, Munster said that Apple would have to produce 50% of its revenue or more from back end businesses. In addition, Apple would have to sell cheaper devices and accept lower profit margins.
"The experience was rough, but using the iPod gave me a sense of joy I never had from any other product. They did it with the iPod and recreated that joy with the iPhone. That magic is a big reason why we've been unwavering bulls on Apple for almost the entire time we've covered it...the company can recreate that magical feeling with some future product and will enjoy watching the stock rise when they do."-Gene Munster, departing analyst, Piper Jaffray
Some time in the next five years, Munster sees Apple replacing the iPhone with a wearable device using Augmented and Mixed Reality. He also expects automobiles to be the next major platform that Apple will dominate.
source:
AppleInsider