Garmin tells stockholders that U.S. launch of nuvifone is close
0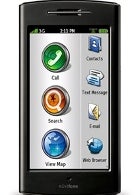 Way back in January 2008, Garmin
introduced
the touchscreen nuvifone G60. Then, this February, Garmin and its partner Asus introduced a second phone in the line, the M20. While the former model feaures a linux based OS, the latter phone runs on Windows Mobile 6.1. An Android based device is due next year.
When the G60 was first announced, the colorful UI, hefty 3.5 inch touchscreen and the GPS centric features that meshed nicely with the full HTML browser, helped the handset stand out among early challengers to the iPhone. 18 months later, the touchscreen market has become crowded with iPhone wannabe's, making it more difficult for the G60 to carve out a niche for itself in the U.S. The technological lead that the model held over the Apple touchscreen device in terms of GPS has now eroded with time. Still, Garmin now says distribution of at least one of its phones through a U.S. carrier is about to happen.
At a stockholder's meeting, Garmin President and COO Cliff Pemble told those assembled that nuvifone was getting close to a carrier release in the U.S. although the specific model was not discussed. Of the two models, the G60 is considered the most ready for retail. Pemble blamed the long delay on a change in plans as originally the devices were to be sold in the States as unlocked, open models. The exec went on to say that the strong interest from U.S. carriers forced them to change the strategy to a carrier centric plan and that meeting the requirements of the wireless carriers took a long time and "a lot of work," he said. Mr. Pemble also mentioned that one of the nuvifone models-again, possibly the G60-will be sold unlocked in the open markets in Asia this month or early next month.
Garmin-Asus G60 Specifications
|
Hands-on
Garmin-Asus M20 (US) Specifications
|
Hands-on
source:
TWICE
via
Electronista
,
EngadgetMobile