GameStop plans on selling Apple iPhone and Android handsets
17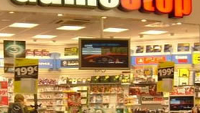 You might go to GameStop to buy and sell video games, but soon you could be going to one of their locations to buy an Apple iPhone or Android handset. Adding such smartphones to the retailer's inventory is in the works, and the company's CEO, Paul Reins, is calling the initiative GameStop 3.0. The company already owns 31 Cricket Wireless locations and hopes to add as many as 150 more.
GameStop recently purchased Spring Mobile from AT&T, so the retailer certainly knows its way around a smartphone. Already the third largest and fastest growing AT&T retailer in the country, there are plans to expand the Spring Mobile name.
Three years ago, GameStop started selling digital and mobile devices, which led to over $1 billion in additional revenue last year. Reins wants to build on this by opening a few hundred stores that won't carry video games. Also in the cards for GameStop is a doubling of its Simply Mac locations from the current 23. Those stores sell and repair all Apple products.
Over the years, we've reported on
GameStop's plans to
sell a branded Android powered tablet
(which apparently failed), plans to
sell new and old iOS devices
and the
launch of its pre-paid GSM MVNO
. If GameStop has its way, the next time you head over to buy the hottest new video game, you might add a new iPhone or Android handset to your purchase.
source:
DigitalTrends
via
AndroidGuys