Apple iOS devices coming to GameStop?
18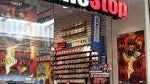 With the Apple iPhone, iPad and iPod eating into sales of consoles and individual video game cartridges, GameStop has decided it would rather join the enemy and rumors started spreading on Monday that the game retailer would start selling new and used models of the trio of iOS devices. 9 to 5 found that this week,
ads that show that GameStop has started accepting trade-ins on Apple devices
to show how its stores usually focus on trading in old games. To clarify, while GameStop does strongly promote its trade-in policy, it does also sell new consoles and games to those who would rather buy an untouched product, and it does a big business in new games when they are initially launched. But make no mistake about it,
trade-ins are the company's bread and butter
.
To show how far smartphones and tablets have come in the gaming world, the undisputed leader in handheld play, the Nintendo DS, launched a 3D stereoscopic version this year called the Nintendo 3DS. Besides playing 3D games, it also snaps 3D pictures, all without requiring the viewer to use special glasses. Sales were unexpectedly slow and Nintendo had to cut the price from the $250 the device was sold at when launched. To make matters worse, the 3DS now has to compete with the just launched stereoscopic LG Thrill 4G handset which, as we
reported
,
is priced as low as $29.99
at Costco with a signed 2-year contract.
GameStop has a small little cloud gaming service and might want to start selling devices in its stores that would use it. Also, there has been talk of a GameStop tablet and
offering the Apple iPad would be a good way to get a decent market share of tablet sales going
, building momentum until the retailer's tablet is ready to go.
Offering the Apple iPod touch and the Wi-Fi only version of the Apple iPad would be easy, selling the Apple iPhone
would require that the retailer's staff get trained in the time consuming chore of activating handsets
, unless it is sold unlocked. Because of the App Store, GameStop couldn't use the iOS devices as a loss leader to sell games, and smartphone fanatics might balk at buying a high-end smartphone at a store known for game cartridge trade-ins.
Right now, it is just a matter of waiting to see if GameStop makes an official announcement about adding the Apple iPhone, iPad and iPod to its roster. Dealers have already been informed of the additions to the store's lineup via an announcement made at a trade show in Las Vegas. But because what happens in Vegas stays in Vegas,
the public is largely unaware
. If this new found focus on handsets and tablets pans out, will this be the start of a full-fledged smartphone division with phones offered from all of the top manufacturers in GameStop stores?
source:
9to5Mac
via
electronista

GameStop has started accepting trade-ins of iOS devices for store credit