Galaxy S9 and S9+ release date set for 'early March,' stacked motherboards in tow
36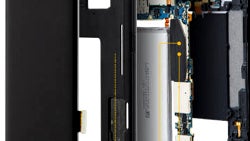 Just as
rumored
, the
Galaxy S9
and
S9+
would be hitting the conveyor bells as soon as next week, quite a bit earlier than their predecessors the
S8
and
S8+
did, as Samsung's 2018 flagships are expected to be released in early March to eager fans, after a likely February 25th announcement. This report comes from Korean media, and sounds like a laundry list of who is who in Samsung's supply chain, detailing the new features that will land with the S9 and S9+.
First off, the speculation that the new top-end Galaxies will sport a stacked system board that saves on interior space, got reiterated, mentioning five initial suppliers that will be churning those out, with a sixth added in February. Apple's new
iPhone X
utilizes
such motherboard design
, freeing up space for a larger,
L-shaped battery
inside. In a nutshell, those advanced SLP (Substrate Like PCB) circuit boards would stack or package the chips tighter together, making their footprint much smaller, and leaving space for other things inside a phone, like, ahem, larger batteries. That's exactly what Samsung may be doing with the Galaxy S9 and/or the S9+, as we recently saw reports on an
increased battery capacity compared to the S8
.
Unfortunately, the current report also confirms that the first dual camera system on a Galaxy S-line phone will be
reserved or the larger, S9+ model
, while the S9 will have to make do with a single camera lens. The selfie camera kits at the front of Samsung's new phones will sport an iris recognition module, and a regular camera, with the modules combined in one on the S9 to save space, but separated on the larger S9+. Last but not least, it will be Samsung's own Electro Mechanics division that will supply the S9 and S9+ cameras, indicating that we might see some of the
new sensors
that said department announced not long ago, outfitted on Samsung's spring flagships.