iPhone X teardown reveals the TrueDepth camera system's secrets
41
After a quick tear-down of the iPhone X by MyFixGuide earlier today gave a sneak peek at Apple's most expensive and most advanced phone to date, but if you wanted a step-by-step teardown that guides you through every single component of the new iPhone, your best bet is the iFixit teardown right above.
The purpose of a teardown boils down to two things: first, give us a sneak peek at what the phone is made of, and secondly, understand how to easy it is to repair different parts, replace a cracked screen or a dead battery.
As to the curious part, let's start with that: the iPhone X turns out to have not one, but two battery cells, positioned in an L-shape. That's a first in an iPhone! It also means that the battery takes more space than ever, and the logic board with the processor and other chips is tinier than ever in proportion. Ounce for ounce, even the Apple Watch has more logic board than what is present on the iPhone X. The logic board size is in fact 70% that of an iPhone 8 Plus. How did Apple achieve this? Quite interestingly, by folding the board in half, or double-stacking it.
Next, the screen opens sideways, just like on other iPhones. The components underneath are what you'd expect:
Apple APL1W72 A11 system chip
3GB RAM, SK Hynix LPDDR4x
Qualcomm MDM9655 Snapdragon X16 LTE modem
Toshiba 64GB memory
and so on...
Next up, the battery. Its total size is 10.35 Wh (2716 mAh at 3.81 V), slightly more than on the iPhone 8 Plus, which has a 2,675mAh battery cell. We have already tested the
iPhone X battery life
and it turns out to be slightly above the average for a 2017 flagship, but not quite in two day territory. Also, it lasts a bit less than the iPhone 8 Plus, despite having a slightly larger battery than it.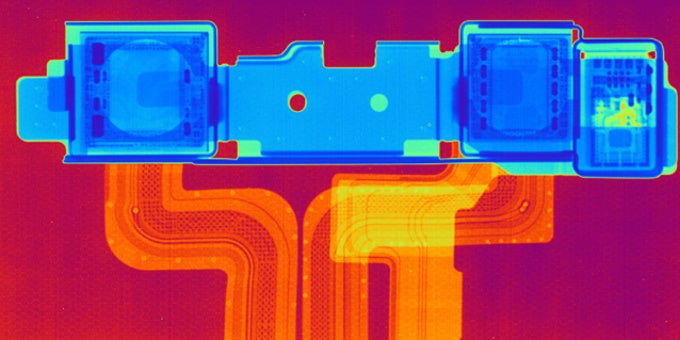 You also get a cool look at the new TrueDepth camera. The magic of it happens in multiple stages: your face is illuminated with IR light by the flood illuminator, then the front camera (in red on the picture) confirms there is a face, thirdly, the IR dot projector shoots a mesh of 30,000 points to understand the three-dimensional structure of the face and finally the IR camera reads the data and sends it to the phone.
iPhone X got a repairability score of 6 out of 10
There are a few good things about the iPhone X design when it comes to how easy it is to perform regular repairs: for example, Apple has prioritized screen and battery fixes in the design, so that you can swap a screen without having to remove the Face ID system. Instead of gluing down components tightly, Apple has used a lot of its proprietary screws (Pentalobe and tri-point) to keep all components in their place, and this is good news as dealing with screws makes repairs easier.
But here is the bad news:
If the back glass breaks, prepare to remove every component and replace the whole chassis
Yes, such a repair would be time-consuming and costly. Apple charges a whopping $280 for a screen replacement, but what is even more troublesome is that repair for other damage (allegedly, including a cracked back) costs an exorbitant $550.