Galaxy S7 launch, Android N preview and Apple's 'Loop' event: Weekly news roundup
1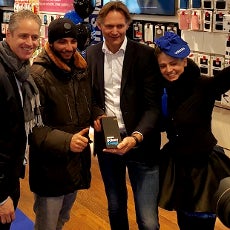 Last week saw the official release of the
Galaxy S7
and
S7 edge
by Samsung, and carriers were running over themselves to
offer last-minute gifts and incentives
, but there were plenty of other things that vouched for our attention, too.
First off, if Google wanted to shake thing up a bit and take everyone by surprise, the sudden release of the next Android version certainly did the trick. While it might not spook the mobile industry to the core, it is certainly intriguing that the new 7.0 version, codenamed "N," is hitting Nexus handsets while the phones running Android 6.0 Marshmallow are still in the low single digits of market share. If one of Google's aims was to show the value of the Nexus brand of phones, that's certainly been achieved too, as those are the only handsets that you can toy around on with two Android versions almost nobody has yet.
Chief among the smorgasbord of other announcements was Apple's March 21st "Lets loop you in" event, where the
iPhone SE
and
iPad Air 3
are expected to be announced, and yet there was more. Check out all the important things that you might have missed last week in the slideshow below.