Following two horrific events, Apple warns Chinese to use approved chargers only
43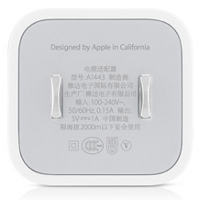 Following two tragic events in China that left a 23 year old flight attendant
dead
and a 30 year old man in a coma, Apple is warning those in China to use
only official
Apple chargers. The Cupertino based company has added content to its Chinese website that shows how its customers in the country can make sure that the equipment they are using is an official Apple product.
Apple was rushed into taking action after word reached the U.S. earlier this month
about the electrocution of Ma Ai Lun
. The 23 year old, who was supposed to be married on August 8th, was shocked while answering a call on her
Apple iPhone 5
which was recharging at the time. The adapter plugged into the wall was not official Apple equipment.
The second case in China involved 30 year old Wu Jiantong who was shocked by his
Apple iPhone 4
while connecting it to a charger.
He has been in a coma ever since. And problems with third party equipment isn't limited to Apple. You might remember Fanny Schlatter, the 18 year old
whose Samsung Galaxy S III exploded in her pants, causing third degree burns on her thigh
. As it turned out,
an unauthorized third party battery was at fault
.
source:
AppleChina
via
AppleInsider