Five Android flavored BlackBerry apps are updated in the Google Play Store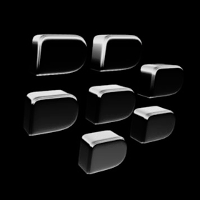 Five Android flavored BlackBerry apps are being updated in the Google Play Store. These apps include
BlackBerry Hub
, which gives 'Berry users a centralized location to read their email, texts, tweets, and more;
BlackBerry Contacts
, which stores all of your contact information in a single location, and allows users to employ the information to make phone calls, texts, send email and more;
BlackBerry Tasks
, an app that allows users to focus on important jobs that need to get done by setting reminders and creating due dates; and
BlackBerry Notes
, which allows users to set up shopping lists, things-to-do-lists and bucket lists.
The four above mentioned apps have been updated to fix and exterminate bugs, and to enhance the performance of each app. Another app receiving an update is
BlackBerry Calendar
. With the latter, you can view your schedule in agenda, day, week or month view. Respond to meeting invitations from BlackBerry Hub and join conference calls directly from event reminders. "Meeting Mode" silences your audible notifications during a meeting so that you don't create a disturbance while the get together is taking place. BlackBerry Calendar will even recommend whom to invite to a meeting based on the people you invited last time.
The BlackBerry Calendar app has the following changelist for the latest update:
Allow changing event calendars after creation
Fixed missing indication of who forwarded an event
Contact birthday/anniversary integration
Accept meeting invites without having to send a response
Bug fixes and performance improvements
All of these BlackBerry apps can be used for free during a 30-day trial. After the 30 free days are up, you can elect to start a paid subscription to continue to use them except for BlackBerry Hub and BlackBerry Calendar. Those two apps can still be used for free following the free trial, as long as you don't mind viewing ads. You can choose to pay for a subscription to those two apps if you want to remove the paid messages.
Download and install the five aforementioned BlackBerry Android apps by clicking on the appropriate sourcelink.
PhoneArena is on Instagram
. Follow us to stay updated with fresh news and flashy media from the world of mobile!
source: Hub, Contacts, Notes, Tasks, Calendar via Crackberry