First Samsung Galaxy S5 ad debuts during Oscar telecast
50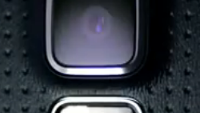 With Samsung a major sponsor of the Academy Awards telecast that was broadcast Sunday night, the Korean manufacturer debuted its first ad for the
Samsung Galaxy S5
. With closeup images of the phone, words superimposed on the screen said "
Every year we celebrate the biggest and the brightest, the smartest and most innovative. The 5.1" full HD Samsung Galaxy S5 with built-in heart rate monitor. The Next Big Thing is Here. April 2014
."
Besides the ad, Samsung got a bit of publicity when host Ellen Degeneres showed off a
Samsung Galaxy Note 3
while on stage. Tonight's host was pretending to take a selfie during the telecast, something she repeated later in the show with Meryl Streep. Samsung couldn't pay enough for global exposure like that.
Ironically, it was the Oscar telecast back on February 27th 2007 when Apple revealed its first ad for the Apple iPhone. That spot showed a series of phones ringing and being answered from famous movie and television scenes.
source:
Samsung
,
The Verge
via
AndroidCentral