Facebook offers its own Instagram-like features in new camera app for the Apple iPhone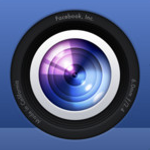 After
spending $1 billion for Instagram
, Facebook is
now offering a camera app with similar features for the Apple iPhone
. The Facebook Camera app is free and is separate from the Facebook and Facebook messenger apps. As those users who reviewed the app on iTunes pointed out, Facebook Camera is not a replacement for Instagram. What Facebook Camera can do is to allow you to swipe through a series of pictures that are sent to you via your Facebook friends. If you see a picture you like from the grid, tap on it to enlarge it similar to what you would do on Instagram.
Facebook Camera is 4.9MB and will work on the Apple iPhone 3GS, Apple iPhone 4, Apple iPhone 4S, Apple iPad 2 and the third-generation of the Apple iPad. It requires users to be running iOS 4 or higher.Instead of posting one photo at a time, the new app allows you to
share multiple pictures at one time
; simply check a box next to the pictures you want to share and hit post. Additionally, Facebook Camera has a built-in Photo Editor that gives you options for your photographs that are similar to those on Instagram. For example, with the pictures from your iOS camera roll, you can crop, rotate and add filters to change the look and feel of a photo.
The Facebook Camera app does leave out some of Instagram's social functions such as using a hashtag to file a picture under a specific topic like #LeBronJames or #DwayneWade for example. While it would seem odd for Facebook to offer this app after purchasing Instagram, according to
The Verge
, the team that was working on the app had been working on the project for months and probably was not given the information that Facebook was going to be making the acquisition. Project Manager Dirk Stoop told the site that
sharing photos quickly and in higher resolution
are the main goals of the app. In other words, Facebook Camera tries to knock out a niche for itself against Instagram which is somewhat ironic considering that Facebook
now owns
will own the competition
once the regulators sign off on the deal
. In its IPO filing, Facebook said it had hoped to close the deal during this quarter.
source:
iTunes
,
TheVerge
via
AppleInsider