Apple iPhone 4S Review
87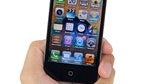 Introduction:
Talk about a long time in the making, especially when the iPhone 4 established itself as one of the most indelible smartphones in the last year alone, but close after a year and a half of being on the market, we're finally seeing its successor in the long awaited Apple iPhone 4S. Just like what we saw with the
iPhone 3GS
in the past, the iPhone 4S is nothing more than an incremental upgrade. Donning a near replica of its predecessor's design, most of the smartphone's juicy new features are found internally as its packs a dual-core processor, upgraded 8-megapixel camera, support for CDMA & GSM connectivity, and its innovative Siri intelligent assistance service.
There's no kidding that many people were hoping for something more next-generation, even more when Apple's rivals have been cranking out some quality smartphones that push the envelope with today's technology. In any event, there's this magical aura of some sort surrounding the handset that entices us to fancy over it no matter what. For starters, we truly adore that the three national carriers are carrying it, which is sweet considering there are more options now than ever, but it'll need to really excel in execution and performance to keep it shining brilliantly in this fierce landscape. With that lengthy wait, does the iPhone 4S still have the perfect ingredients to stand firm amongst the competition?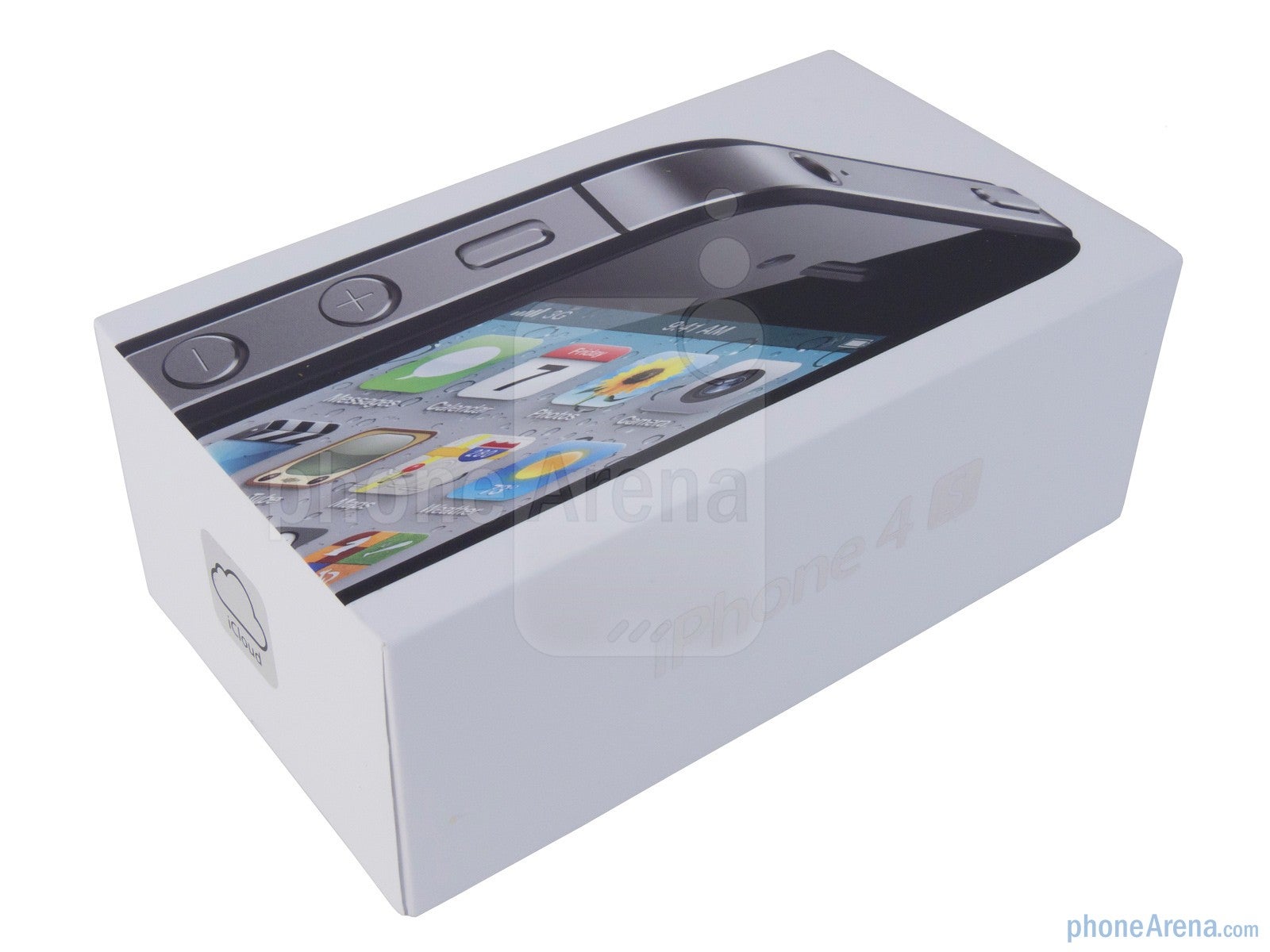 The package contains:
Apple iPhone 4S
USB cable
Wall Charger
Stereo Headphones
Apple Decals
Quick Start Guide
Important Product Information Guide
Design:
Generally, the first thing to capture our attention with any device is its looks, but seeing that the iPhone 4S utilizes a
rehashed design
, we're not that compelled this second time around. Rather, we're accepting of its solid construction and premium feel, but it's essentially the same phone that we know and love. However, the only subtle difference found with the iPhone 4S is the new arrangement with its antenna design – though, the details to it are almost negligible. Of course, we adore the glass like plates that are sandwiched together with its brushed stainless steel band, which utterly aids the handset in retaining its premium feel. Yet, our mind tells us that the handset wouldn't handle even the smallest of drops to the pavement – so yeah, you might want to be careful with it.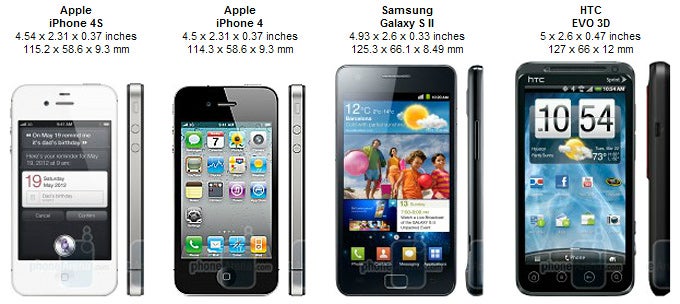 You can compare the Apple iPhone 4S with many other phones using our
Size Visualization Tool
.
Last year, we were completely blown away by the
Retina Display
since there was nothing remotely close in producing its sharp details and realistic colors. Not surprisingly, we're not as impressed this time because we find the same old 3.5" IPS display that's featured with last year's model. Nevertheless, its high resolution of 640 x 960 and screen size provides the perfect combination in giving us a wicked pixel density of 326 PPI – thus, making even the tiniest of text more than discernible to the naked eye. In an age where saturated color production appears to be what enthralls people initially, we still adore the realistic and natural looking colors dished up by the Retina Display. Add in its high contrast ratio and wide viewing angles, we're able to effortlessly see everything on-screen without a pinch of degradation to its quality.
Of course, this wouldn't be an iPhone if it doesn't pack that iconic
home button
below its display, which is tactile with its response, but it also executes functions to get toggle the multi-tasking pane and activate Siri. Meanwhile, a
front-facing 0.3-megapixel VGA camera
sits close to the earpiece to offer us the convenient features of FaceTime – or simply snap some self-portraits.
Just like before, all of the handset's
buttons
, switches, and ports are found in their usual locations. These include the separated volume controls, vibrate switch, dedicated power button, noise cancellation microphone, 3.5mm headset jack, microSIM card slot, speaker, regular microphone, and its proprietary dock port.
Turning it over
, the other major upgrade to the iPhone 4S is found with its higher 8-megapixel auto-focus camera with LED flash, which features backside illumination and a larger f2.4 aperture. Meaning, it's supposed to offer superior performance with low lighting shots – we'll be the judge of that later on.
Display measurements and quality
Apple iPhone 4S 360-degrees View: