Eye Experience coming to AT&T's HTC One (M8) early next week with Android 4.4.4 and VoLTE
1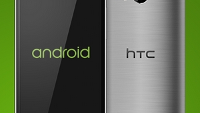 Last Monday, we told you that
Android 4.4.4 was coming to the AT&T branded HTC One (M8)
. As it turns out, the update is actually scheduled to be sent out early next week according to a tweet from Mo Versi, HTC VP of product management. The good news is that the update will include Eye Experience for the camera application, and support for VoLTE.
Eye Experience adds features to the camera
on your
HTC One (M8)
such as
Face Fusion
. Photos of two different faces are merged together to form one funny looking person.
Split Capture
allows you to show a split screen on a video or video chat. For example, you can use the front-facing camera to comment on something being captured by the rear-facing camera. With
Face Tracking
, the front-facing camera on your phone keeps tracking your face even as it moves around. It also allows you to view up to four different people at the same time on the other end of the video chat.
Screen Share
allows you to show someone what is on your phone's screen, and helps you teach someone how to use their HTC One (M8).
Besides Eye Experience and VoLTE, the camera will receive a copy and paste function. Visual Voicemail will be updated along with some AT&T branded apps. We should point out that Verizon, Sprint and T-Mobile HTC One (M8) owners have already received this update.
Owners of HTC's flagship device have much to look forward to as Android 5.0 is
supposedly coming to the HTC One (M8) before February 3rd
.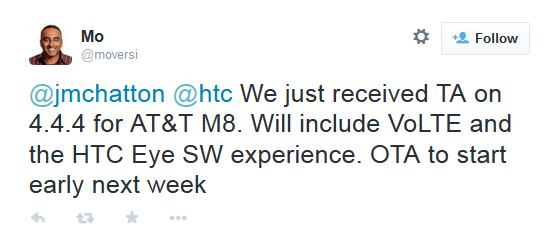 AT&T's HTC One (M8) will receive its Android 4.4.4 update early next week
source:
@moversi
via
AndroidCentral