Android 4.4.4 comes to AT&T's HTC One (M8), not Android 5.0
8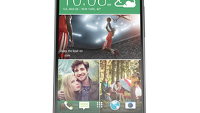 AT&T's
HTC One (M8)
received an update on Monday. Not so fast. It is not the eagerly awaited Android 5.0 build that came to the phone OTA, but was Android 4.4.4 instead. In addition, the phone now supports HD Voice and the update also helps improve the performance of the handset's battery. It adds an update to the Visual Voicemail feature and one for the AT&T Ready2Go app.
The changelist also includes enhancements to security and Bluetooth, adds a Usage Manager app and AMBS Cloud Messaging Integration. Lastly, the update brings a Copy and Paste camera feature.
The only confusing thing is that the carrier branded version of the HTC One (M8) is supposedly set to receive Android 5.0 very soon. It was back in October when T-Mobile customers rocking the HTC One (M8)
received Android 4.4.4 along with the camera enhancing Eye Experience update
. Days later, the Verizon and Sprint versions of the HTC One (M8)
received the very same update.
Does this mean that AT&T customers with the HTC One (M8) will receive Lollipop months after Verizon, Sprint and T-Mobile subscribers receive it?
Based on the promise made by HTC that it would send out the update to the HTC One (M8)
no later than 90 days after the final version of the update was turned in by Google
, we should see Android 5.0 for the handset
on or before February 3rd
.
via:
AndroidCentral