Deal: Unlocked Samsung Galaxy S8+ on sale for just $575 on eBay
3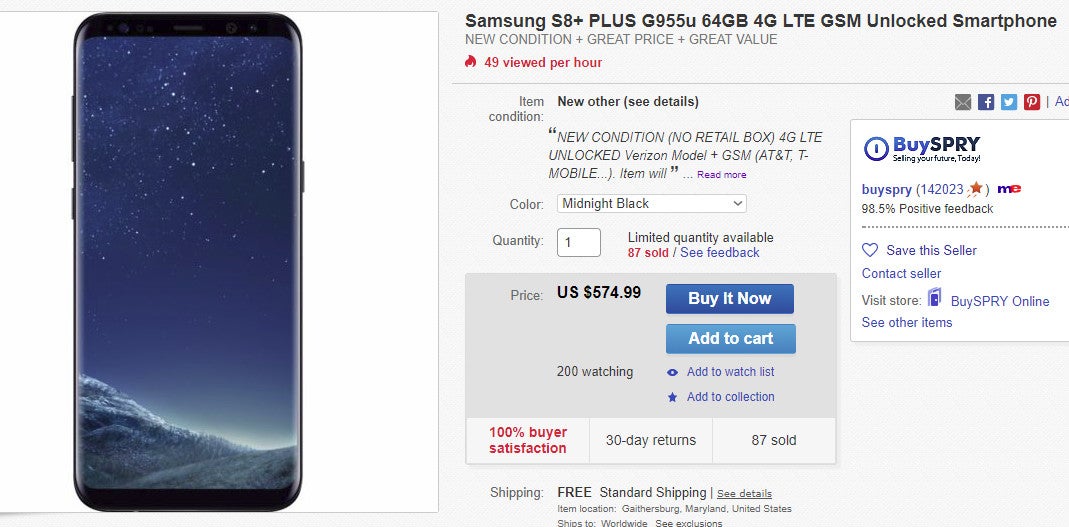 Introduced early this year, Samsung's flagship, the Galaxy S8+ already dropped under $600 in the United States. Many authorized retailers and carriers
offered the smartphone for less than $600
when committing to a long-term contract.
Now, one seller on eBay has the unlocked version of
Samsung Galaxy S8+
up for grabs for just $575 outright. However, there are a couple of things that make the offer a bit unusual, so keep reading and decide after it's worthy or not.
First off, although the product is new, it doesn't come with the original retail box. Also, the accessories that come with the phone are compatible with the Galaxy S8+, but they are not Samsung branded.
Finally, this particular version of
Galaxy S8+
will have Verizon's logo greeting you at boot it up, but the phone is GSM factory unlocked. Keep in mind that while it's fully compatible with Verizon and GSM carriers like AT&T and T-Mobile, it will not work on Sprint.
So, there you have it, folks. Even though you can get the Samsung Galaxy S8+ for less than $600, there are some things that you need to take into consideration before making your purchase.