Deal: Save 15% on the purchase of either one of these 10,000mAh Romoss power banks
1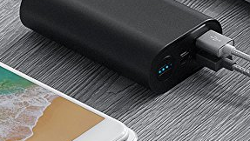 From now through Sunday, November 12th, you can save money on the purchase of either one of two specific Romoss power banks being offered on Amazon. If you are constantly watching the battery indicator on your phone and start to get worried when it begins to drop, purchasing one of these devices will forever change the way you use your handset. Instead of holding back with the features on your phone to conserve battery life, with one of these power banks in your pocket, battery life will no longer be an issue for you. And that will allow you to enjoy your smartphone to its fullest potential.
Remember when 10,000mAh power banks use to cost a fortune? Now, you can score the Romoss SE10, priced originally by Amazon at $79.99, for only $23.99. This model uses the same battery technology used by high-end electric cars. With over 1000 charging cycles, this unit will last for some time. The dual 2.4A outputs (4.8A Max) will charge two devices simultaneously, and Romoss' own Fit Charge technology automatically uses the fastest charging rate that can be safely used with your device. With Type-C and micro USB inputs, the SE10 will work on your iPhone and Android device.
Charging this power bank takes five hours, but it will charge your
Apple iPhone 7
3.9 times, and your
Samsung Galaxy S7
about 2.6 times. At 10.8 ounces, you will know that the SE10 is in your pocket. But that is the price you pay for a sturdy power bank that can take a hit or a drop. And here's a bonus. Use the coupon code
SE10PHAR
and take an additional 15% off Amazon's price for the power bank.
If you're on the go constantly, the Romoss UP10 also carries 10,000mAh but this model not only works as a power bank, it also is a wall charger. With a foldable AC wall plug, you can recharge the unit by plugging it directly into a wall outlet and fully charge the unit in 6 hours. That means that an overnight charge will have the UP10 100% ready to keep your smartphone going every morning. This model has 2 outlets (5V/1A and 5V/2.1A) that can charge 2 phones or 1 phone and a tablet at the same time.
Designed to look like a suitcase (after all, this model is for those who travel constantly), the UP10 was originally priced at $89.99 by Amazon. Now, you can buy the power bank/wall charger in Gold or Rose Gold for $37.99 and Gray for $34.99. Use the coupon code
UP10PHAR
and you'll get an additional 15% off Amazon's listed price.
Both models are easy to use, and have LED lights that allow you to keep track of how much battery life remains "in the bank." If interested in either device, click on the sourcelink. And keep in mind that not only is a power bank a great accessory for those who are constantly using their phone, it also makes a great holiday gift for all of the smartphone users on your shopping list!
source: Amazon (
1
), (
2
)