Deal: Nokia Steel HR hybrid smartwatch is on sale for 20% off
3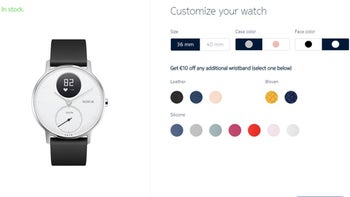 After buying back its Health business
from Nokia, Withings is now trying to raise some cash and what better way to do than running a sale. Many of the company's health products are now available for purchase for up to 50% off, including the Nokia Steel HR hybrid smartwatch.
Even though it's not among the products that got the maximum discount, customers can still pick one up or 20% off. So, instead of paying €180, everyone can now purchase the
Nokia Steel HR
for just €144.
You'll notice that the "
Nokia
" branding has been removed from the website, but the logo is still present on the smartwatch. Besides the 20% discount on the
Nokia Steel HR
smartwatch, you'll also get free shipping if you decide to order one.
Also, for those of you who want to buy an additional wristband (or more), you'll be pleased to know that you'll receive a €10 off on any of the wristbands available on the Withings online store.