Deal: NVIDIA Shield TV drops to lowest price to date on Amazon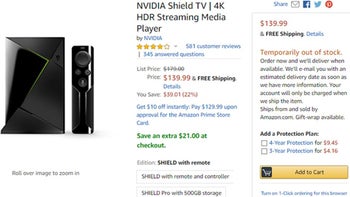 The NVIDIA Shield TV may or may not be a mainstream product, but we can definitely say that it's cheaper than ever. The streaming media player is
on sale just about every month
at multiple U.S. retailers, so if you've paid the full $180 price you should probably feel ripped off.
However, we haven't seen the price of the NVIDIA Shield TV dropping below $140, which is why the latest deal coming from Amazon is so important for those who were eyeing the device.
For a limited time, the NVIDIA Shield TV is
available on Amazon
for just $119. Even though you'll see a different price ($140) on the device's page, there's an extra $21 discount waiting for you at checkout, which will increase the overall savings to $60.
You'll also notice that the
NVIDIA Shield TV
is now temporarily out of stock. Even so, you can still place your order as Amazon will deliver the item when it's available. Keep in mind that this NVIDIA Shield TV bundle only comes with a remote, so if you want the controller or the SmartThings Link, you'll have to choose another bundle that's more expensive.