NVIDIA SHIELD TV gains Amazon Alexa integration in latest update
4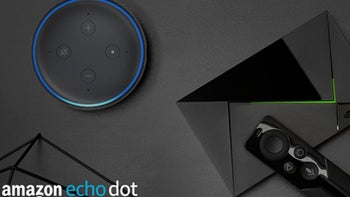 NVIDIA
has just announced
a new update for
SHIELD TV
brings additional functionality to the streaming media device. Thanks to a new Alexa skill, SHIELD TV users will be able to control it hands-free with their Amazon Echo devices.
The SHIELD TV becomes the first streaming media device that you can control with both Amazon Echo and
Google Home devices
. With the new Amazon skill, you'll be able to ask Alexa to help with navigating and enjoying your favorite movies, TV shows, music, and other stuff. Here are some of the voice commands that currently work on the SHIELD TV:
Getting Started
Alexa, turn on SHIELD.
Alexa, turn off SHIELD.
Controlling The Volume
Alexa, set volume to 80 percent on SHIELD.
Opening Entertainment apps
Alexa, open Prime Video (on SHIELD)."
Alexa, open HBO NOW (on SHIELD)."
Using Media Controls
Alexa, pause (on SHIELD).
Alexa, play (on SHIELD).
Alexa, next (on SHIELD).
Alexa, previous (on SHIELD).
Alexa, fast-forward ten minutes (on SHIELD).
Navigating SHIELD
Alexa, go to settings (on SHIELD).
Alexa, go home (on SHIELD).
Alexa, go to control settings (on SHIELD).
In addition, the update brings
Dolby Atmos
passthrough support for Prime Video. In order to benefit from the new improvements, you must pair an Amazon Echo device with your NVIDIA SHIELD TV from within the Amazon Alexa app, which is available for download on your smartphone via Google Play or App Store.
Then, you'll have to enable the skill by opening the Alexa app and clicking the menu button. From the "Skills & Games," search for "NVIDIA SHIELD TV," select the skill and choose "Enable." The final step requires you to select the SHIELD TV and
Echo devices
that you want to connect.
On a related note, NVIDIA announced that through November 10, customers can purchase the SHIELD TV from Amazon or Best Buy and get an Amazon Echo Dot (3rd Gen) for free.