Deal: Save up to 22% on various NVIDIA Shield TV models at Amazon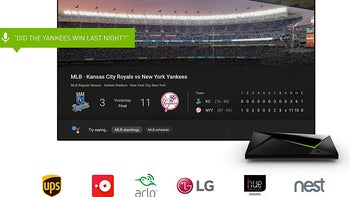 NVIDIA's Shield TV has been on sale
quite a few times in the past
, but if you didn't have the money or the desire to buy one, we have another deal for you that includes not just the basic model, but some of the more expensive versions as well.
Amazon is running a sale
on the NVIDIA Shield TV with savings of up to 22% on various models. The sale does not seem to be available on NVIDIA's online store, but Amazon should be more than enough if you're interested in getting one.
NVIDIA Shield TV with remote and controller (Gaming Edition) - $160 (save $40);
NVIDIA Shield TV with SmartThings Link (Smart Home Edition) - $180 (save $40);
NVIDIA Shield TV with remote - $140 (save $40).
The NVIDIA Shield TV Pro Home variant is not part of the sale, so you'll have to come up with $300 upfront to purchase one. Besides the $40 discount on those three models, Amazon throws in free shipping.
If you're not familiar with the device, here is a quick rundown of
NVIDIA Shield TV
's main features. First off, this is a media streaming device, which offers 4K HDR quality streaming and immersive sound thanks to the Dolby Atmos and DTS-x Surround sound technologies.
The media streaming device comes with
Google Assistant
, Google play movies and music, and fully supports Google Home. If you have an Amazon device with Alexa, you'll be able to
control the NVIDIA Shield TV hands-free
.
Also, the SmartThings Link accessory that comes included in the Smart Home Edition allows users to control smart devices such as lights, thermostats, and cameras with their voice.