Day 8 of Google's 10-cent app bonanza: Where's My Water, Shazam Encore and more
17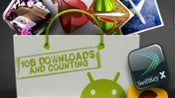 Google's popped the champagne for 10 billion downloads on the Android Market, and celebrations are done just the right way - by discounting some of the most popular apps and games on the Market.
For a week the search giant has slashed prices on
apps to a dime
and today is no different.
Here's the 10-cent app selection for day 8 of the 10-day app giveaway:
As you've probably noticed, our own pick for
2011 Game of the Year
, Where's My Water, has its price cut to only a dime, but the rest of the titles are also definitely worth checking out.
Don't forget that tomorrow and Thursday will be the last two days of the Android Market discount, so check us back for the apps then. Here's what you might have also missed from the past few days: