Google's day 7 of the 10 cent app giveaway brings Doodle Jump, Flight Control and more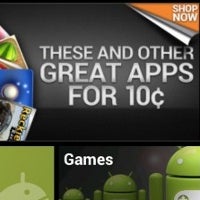 It's the seventh day of a feast for Android users - Google has been discounting some of the finest apps on the Android Market to a dime. Today, we have 10 more to hit the 10-cent app list and only the last two are repetitions from previous days.
With awesome titles like Doodle Jump and Flight Control, we'd easily forgive Google the two repeating apps, plus it's a chance for those who might have missed them to get them now.
With no further ado, here are the apps for day 7:
Here's what you might have also missed from the past few days: