Court in Tokyo rules that Samsung infringed on Apple's bounce back patent
17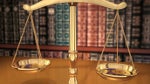 A
patent that was just ruled valid once more
by the USPTO played a key role in a Tokyo court decision on Friday, ruling that Samsung infringed on Apple's patent for the
bounce-back effect
. Last Friday, the U.S. patent agency made Apple's patent for the bounce-back effect valid after it was
declared invalid last October
. The patent covers the way that some icons and other images bounce once the user scrolls to the very end of a file, picture or document. Samsung devices now show a blue line at the end of documents as a way to workaround Apple's intellectual property.
Samsung and Apple are currently battling over patents in ten countries with the sequel to last year's epic court battle expected to start next February, as Judge Lucy Koh is set to reprise her role as presiding judge. The bounce back, or rubber-banding patent, could play a big role in the upcoming trial.
Information from Tokyo says that the ruling against Samsung covers some of its older models, although specific device names were not mentioned. The Tokyo court is expected to release more information on the ruling later on Friday.
source:
Reuters