Apple's Bounce Scroll patent is now invalid in the U.S.
56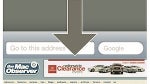 It seems Apple will no longer be able to use the so called "Bounce Scroll", or "rubber banding" patent to attack its competitors, as the US Patent Office has decided to invalidate its patent. Apparently, Samsung has managed to prove its point in front of the USPTO by seeking out some intriguing prior art, involving a "controlling content display" by AOL/Luigi Lira from 2003 and a "continuous scrolling list with acceleration".
This is a most interesting turn of events, since Apple used this patent during its trial against Samsung earlier this year. The verdict of the trial said that Samsung has to pay $1.05 billion to Apple due to patent infringements, but with this new discovery, things might take an unexpected turn once again.
Still, the "Bounce Scroll" patent has been "tentatively" invalidated, which should mean that the outcome of this legal battle is still up in the air.
source:
Foss Patents
via
Gizmodo
Recommended Stories