Cortana to be 'absorbing the entire Internet,' more details on the voice-controlled WP assistant leak out
83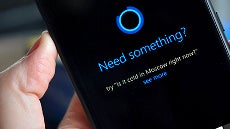 Microsoft's
voice-activated virtual assistant Cortana
will appear as a blue circular icon in the new Windows Phone 8.1 edition, and
have personality traits
, just like Apple's Siri, rehash "
sources familiar with the matter
". When the service is speaking, the icon will animate, as well as when it is "
absorbing the entire internet
". We kid you not, that's exactly what it says it's doing on the latest leaked screenshots, while it is processing information for the answer you expect it to spit out.
Cortana will allegedly replace Bing Search entirely, and can address you with different nicknames you choose for yourself, like "Master Chief", or the omnipresent "Dude," for example. If you let it, Cortana will be able to scour your messages for flight details, among other things, and set notifications on its own.
When this awareness is switched on, it can also collect behavior patterns, location data, contact information, calendar reminders, and such, in a so-called Notebook. Not unlike Google Now, the compiled information will be used to better assist your needs, and automate your tasks,
aided by services like Foursquare
and the like. How successful these functions are executed in Cortana, or if this will be the final name of the service at all, remains to be seen when
Microsoft unveils it next month
, as part of the Windows Phone 8.1 update.
source:
TheVerge