Cook points out that the Apple Watch had record revenue for Apple's fiscal first quarter
14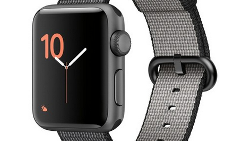 When Apple released its fiscal first quarter earnings after the market closed on Tuesday, most of the attention was put on iPhone sales,
which tallied a record breaking 78.3 million units
. Less attention was placed on iPad sales, with good reason. Turnover for the iOS powered tablet declined to 13 million slabs last year, from the 16.12 million units rung up during the same quarter the previous year. Still not broken out separately by Apple were the sales figures for the Apple Watch.
During the conference call that followed the earnings announcement, Apple CEO Tim Cook did note that during the period of October through December 2016, which encompasses the fiscal first quarter, the Apple Watch did set a record for revenue. The executive said that demand for the timepiece was so strong during the holiday quarter, Apple "couldn't make enough."
When it comes to reporting watch sales, Apple will not do it just yet. The Apple Watch was shoved into the "other" category along with Apple TV, Beats products, the Apple iPod, and accessories (including Apple's own branded models and those produced by third parties). Sales of the "other" group declined from $4.35 billion in 2015's last calendar quarter, to $4.02 billion in the final three months of 2016. Even though the Apple Watch smashed revenue records, it appears that Apple TV had such a poor quarter that it more than offset strong sales of Apple's intelligent timepiece.
source:
MacRumors