Check out the first Galaxy Note5 ad, touting the new auto-eject S Pen
14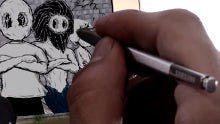 The first
Galaxy Note5
ad is already airing here and there, and it brings with it a focus on the brand new shiny design that breathes new life in the Note line, as well as the S Pen stylus that has been greatly improved yet again. Not only did we get a breathtaking redesign with the Galaxy Note5, but the company stepped away from its signature plastic phone paradigm in the process, again taking a big risk to alienate those fans who flocked to its handsets for the swappable batteries and expandable storage.
Despite their lookalike exterior, there is one pretty significant design difference between the Note5 and the
S6
, or the
S6 edge+
, for that matter, and it is the S Pen stylus silo. Tucked in the lower right corner, the S Pen is now ejected by pushing it slightly inwards, at which point the stylus is popped protruding by a spring mechanism, letting you whip it out quickly, instead of fumbling around with tiny slits and curse at your cut fingernails like before. Besides making it easy to handle, Samsung introduced new features around the auto-ejectable S Pen this time around, and some of those are presented in the ad below, check it out.