Certain OnePlus One users will get a free three month extended warranty in India
7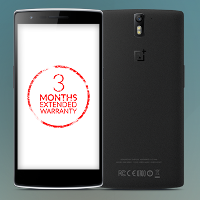 When
OnePlus recently cut the price
of the
OnePlus One
by $50 USD to $249 USD for the 16GB Silk White Model and $299 USD for the 64GB Sandstone Black variant, it left the current prices in India untouched. And while pricing still has not changed in the country, today the manufacturer has announced an extended warranty that is available for OnePlus One users and future OnePlus 2 owners in India. In fact, this new initiative will be available on all future OnePlus handsets.
Here is how it works. If your OnePlus One smartphone has service issues where a repair has been delayed, or your phone has been sent to the service center and has not been returned for more than 15 working days, you will receive a free three-month extended warranty for your phone. In the case of a dispute, the final word belongs to OnePlus.
This is being offered in India only, and includes units purchased from the official Oneplus.net website. Indian OnePlus One customers have been complaining of poor customer service with some saying that their phone has been at the service center for more than a month. The company admits that it has made mistakes and is hoping that the extended warranty will calm those who have had problems with their phone, or with customer service. India is an extremely competitive smartphone market and poor customer service could quickly lead OnePlus One customers to migrate to another manufacturer.
"Our local forums and social media channels have been abuzz frequently on the issues being faced by our customers concerning our product not working as intended and the umpteen number of other device related problems currently plaguing a few customers. A few of you have been repeatedly communicating to us on the delay in getting their devices some running into more than a month. This is disturbing especially when we live in such a digitally connected world where our phones are our window to the world and the work each of us are involved in...Mistakes were made on the way but we aren't trying to justify ourselves here or blindside you with useless facts and pointers meant to take your attention away from the real problems at hand. Quite the contrary, actually. We would like to get your devices in order and tended to on the double. Minimal fuss, maximum support in terms of customer assistance from our side."-Vikas Agarwal, General Manager – India, OnePlus
Recently, the company introduced a new toll-free number for its customers in India. The number, 000 8008 522 008, will connect the caller with customer service personnel.
source:
OnePlus
via
TheTecholic