Can the Nokia X run a custom Android launcher? Yes, and here is a video proof
26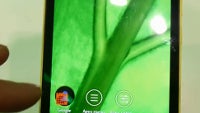 Nokia has just unveiled the
Nokia X
family of smartphones at MWC, the first devices made by Nokia and running on Android, but they run on a "forked" version of Google's operating system, so they look more like a mix of Windows Phone and Asha with their tiles and Fastlane panels. Is there a way to revert back to more traditional Android looks?
The answer is yes. Nokia has said that you can sideload any app (via an APK) on the Nokia X, X+ or XL, but we had to test this ourselves to believe it. And what do you know, it worked just fine.
We sideloaded Apex Launcher on the Nokia XL and it gets rid of the tiles and transforms the looks of the XL into nearly stock ones. Sure, some of the elements like the core apps and notification center retain Nokia's modifications, but all else looks pretty stock. There is, of course, a large variety of custom launchers on Google Play, so while not all may work, it seems that you won't have a problem bringing the X series to stock looks. Check out the video below to see for yourselves.