Nokia XL Review
19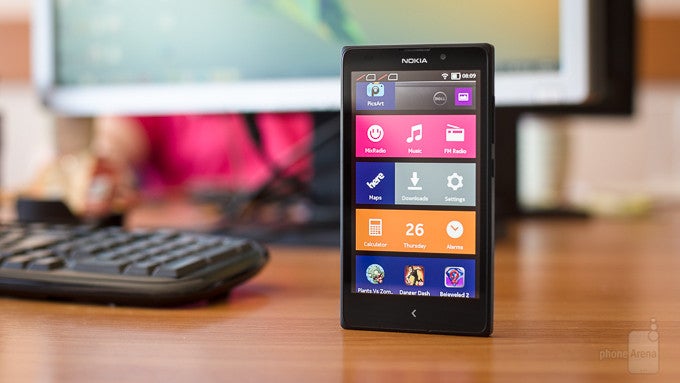 Introduction
The 5-inch
Nokia XL
is the largest in Nokia's family of affordable Android-running phones, but just like all the rest in the X series, you'd find it hard to recognize it as an Android phone. This is because of Android
Nokia X
- the company's own custom version of the platform that brings a Windows Phone-inspired interface and comes without all core Google apps. The Nokia XL does not even have the Google Play Store - instead it comes with Nokia's own app catalog that lacks even very popular apps like Spotify and Netflix.
The Nokia XL also got quite a few things going on - the large and vivid display, a fairly well-optimized performance, dual-SIM connectivity, and it's got both a 5-megapixel main camera and a secondary, front cam.
Can all these pros outweigh the cons of a weird Android experience and limited number of apps? Let's find out.
In the box:
User Manual
Wall Charger with non-detachable USB cable
Headset
Design
The Nokia XL deserves its name - it's big and unwieldy, larger than most other 5-inch phones.
You can tell just by its name that the Nokia XL is a large device. Knowing that it's a 5-inch phone actually does not tell too much about the phone - it does not reveal the fact the bezels on it are huge (especially the side ones), and that it all comes in a pretty thick and bulky package. It is the 0.43" (10.9mm) thickness, however, that really contributes to a feeling of a rather unwieldy phone. Not only is it thick, it's also very heavy, measuring 6.7 ounces (190g), more than even most phablets. It is solidly put together, though, and does not screak when you hold it tightly.
Design-wise, the XL follows Nokia's signature design language with a plastic wrap-around shell. The back is made of matte plastic that feels very similar to the material used in the
Moto G
, maybe a bit softer, but also very prone to attract oily fingerprints. Up front, there is just one capacitive 'back' key, right below the display - an element that reminds of Asha feature phones.
All physical keys are on the right side - the power/lock key in the middle, and the volume rocker above it, and while both are decidedly plastic, they are comfortably within reach of your thumb, and very clicky and easy to press.
Display
The 5-inch screen is not sharp, but it more than makes up for this with its great and vivid colors. Outdoors, though, it's hard to read the screen.
The big highlight of the Nokia XL and the reason it carries its (not so flattering in apparel design) name is the spacious 5-inch display. It's not truly XL by today's standards, but it's still big for this class of affordable devices.
The screen comes with a resolution of 480 x 800 pixels (WVGA), which works out to a pixel density of the very low 189ppi. This drawback is most obvious when you look at text, which looks pixelated, forcing you to zoom in to be able to read it.
If you don't obsess over pixels, though, the 5" display of the Nokia XL will definitely make you happy with its lively, vivid colors. It's among the best screens on an affordable phone we've seen so far - it's not too cold, it's got deep blacks, and while it's just a bit off in terms of color, it looks great.
Using the display under the direct sunlight outdoors, however, is a bit problematic - the peak brightness of 358 nits is on the low side, and the high reflectivity of the screen will force you stare and shield the screen to make out what's on it. Finally, while viewing angles are not terrible, they are not good either and color and luminance decrease noticeably when you tilt the screen a bit.
Display measurements and quality